Meet the chef who forages Dublin's green parks, turning his finds into a donation-only supper club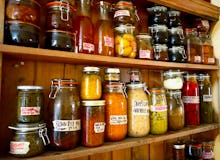 In chef Kevin Powell's Dublin, Ireland, flat, it's hard not to gawk at the dozens of jars lining the walls: They all bear masking tape labels, some with sticky substances leaking out and others with a cloud of dirt-like fog covering up their contents. The dried herbs hanging from the ceiling lure you deeper into the cheese maker turned self-taught-chef's laboratory of preserved foods.
A few times a month, curious strangers are invited into Powell's home, where every surface is covered with cooking tools propped up in cans formerly filled with Greek feta, or dehydration mechanisms or cookbooks older than Powell himself. This is all part of Gruel Guerilla, Powell's supper club.
Gruel Guerilla serves a multi-course meal created from ingredients almost completely foraged from Dublin. Salt (not a locally available ingredient) is replaced with dried seaweed or other minerals, preserved fruit has its sugary rind plucked off and baked into cakes and artfully plated dishes are garnished with herbs and plants sourced from city parks. Since it's illegal to charge people to eat in your home in Ireland, Powell's supper club operates solely on a donation basis, with guests anonymously leaving cash in envelopes at the end of each dinner. He barely breaks even.
In March, when I visited Powell's flat on a grey Irish afternoon, he told me he didn't mind not making money off the meals: It's a passion project involving a lot of effort, and minimal overhead cost. Though he used to have a rooftop garden, a new landlord cracked down on the not-so-legal edible botany and made Powell dismantle his crops. Still, urban foraging works in a city like Dublin, where it would be a challenge to walk a few blocks in any direction without seeing greenery.
"It's a big town, in a country full of farmland," Powell said of Dublin's foraging potential, noting that he finds ingredients "everywhere." Parks near the sea and toward the mountains offer a diverse bounty, including, but not at all limited to, ingredients you'd traditionally purchase at grocery stores like wild fennel, mushrooms (porcini is a popular find), wild garlic, wild blueberries, blackberries, sea buckthorn and plenty of other flavorful sea vegetables.
"Dublin is a great city for foraging but people don't realize it yet ... It's easy and flat to get around and there's so much green space." Powell said of the city's natural biodiversity, "It's a nice place for sea stuff and land stuff, we're lucky."
A magnificent meal
The day I ate in Powell's dining room — separated from the kitchen by a chalkboard with the day's menu and slightly obscured from the living room by open shelving piled high with cookbooks and more jars and canisters of fermenting ingredients — he served a plated four-course lunch. The meal wouldn't have felt out of place if it were accompanied by a three-digit price tag in Manhattan, where restaurants like Dan Barber's Blue Hill thrive off promoting the local, no-waste food phenomenon.
On the menu: A crudo-like sea bass with rhubarb, fennel pollen, crab apple and nasturtium picked near Trinity College; tartare-style beef cured in konjac with homemade sweet chestnut miso and a dollop of homemade ketchup, sprinkled with in-season wild garlic; homemade noodles with beer vinegar and sea purslane and a surprisingly sweet fig leaf (sourced from a neighborhood tree that was cut down) and white chocolate cake with pear, honey and Jameson (not foraged, but locally distilled) for dessert. Somewhere throughout the meal was peat that Powell had earlier climbed a tree to source and dehydrated Sherpa milk powder, a sweet substitute for confectioners sugar.
"I try to preserve every element of everything, that's the general idea," Powell said. He uses both hot and cold liquids to preserve his foraged ingredients, for months or even years, but needs to source sugar and salt to use with vinegar to preserve his bounty.
The freedom of a supper club
While Powell admits to making a lot of doughnuts (also dusted with fennel pollen) — his day job is running the kitchen at popular Dublin café Meet Me in the Morning — and "loves fried chicken" he says that in his house, the food is healthy.
"It's very fresh, most of the food is raw to a certain degree," Powell said while thinly slicing his sea bass to plate over paper-thin beet discs. "There's very little oil used and I can't use many Irish salts, so I season with minerals like seaweed." Powell, who doesn't drive, also cycles everywhere to forage his menu items, adding to the healthy lifestyle element of foraging.
Restaurant chefs are always in a hurry — rushing hot plates to diners, covering more tables in less time, driving profits and efficiency to the highest extent. The freedom of an in-house supper club alleviates all of the pressure on immediacy.
Powell describes Gruel Guerrilla as being "more about the ingredients and process rather than the speed at which it's cooked."
Foraging as a way of life
Powell learned to forage the same way he learned how to cook: "Asking questions to people who knew more than me." The book, Food for Free, has also served as a back pocket resource.
Though he doesn't forage meats (roadkill cuisine doesn't exactly follow food safety protocol), Powell doesn't have any "real restrictions" on what he forages: He looks for what he thinks will taste good, and which flavors he can showcase.
Reservations for Gruel Guerilla are on a temporary hiatus while Powell builds up his soon-to-open wine bar MMIM. The bar will have the same ethos as his supper club, only it will be "much more accessible" because the wine bar is not in his house.
He'll showcase local flavors and confirms that everything he forages for the wine bar is safe to eat up based on Dublin city code — there are no regulations forbidding foraged menu items.
As a forager, chef and Dubliner, Powell wants to focus on education at MMIM by sharing his success. "Nothing's a secret" he said, when it comes to foraging and preserving. He's happy to "share everything" and said that in the growing foraging and preserving community, a group shares jars of the preserved products they've created.
Still, Powell is a modern pioneer in the extrveryme foraging-preserving culture so popular with Nordic chefs like Rene Redzepi. "I've made miso longer than anybody else in the city," Powell told me, noting that it's "amazing" that the movement has grown beyond him in the past six years he's been scoping the city for its natural edibles.
As more people start finding free snacks in the cityscape, Powell isn't worried about his fellow foragers depleting the city of the ingredients he needs. "I think there's a lot," he said. "We help propagate by taking and using. Plants like to be picked, it helps them grow." And if someone gets to the last wild garlic before Powell, that's okay as well. The chef speculated that more people taking goods may encourage the earth to supplement with a larger crop the following year.
"We're doing our part — the more people that do it, the better. "