Trump has appointed 4 military generals to his administration. How do his predecessors compare?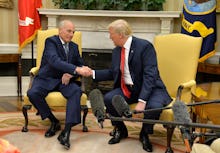 As retired army general John F. Kelly settles in as President Donald Trump's new chief of staff, the White House has once again demonstrated its willingness to put military generals — whom Trump has alternated between praising and condemning — at the forefront of the Trump administration.
Kelly, who previously served in the Trump administration heading up the Department of Homeland Security, is one of three military generals currently serving in top positions at the Trump administration, along with Defense Secretary James Mattis and national security adviser H.R. McMaster. Trump also previously appointed former general Michael Flynn as national security adviser, who later resigned amid the ongoing Russia scandal, and current CIA director Mike Pompeo is a former Army tank officer.
Is Trump's military-heavy administration out of the ordinary?
Trump has brought a number of military generals into the White House, but military personnel have had a place in the executive branch since former general George Washington's inauguration.
"You can go back in time and look at many, many of the cabinets, and you get lots of people who have served in the military," presidential historian Mike Purdy said in an interview.
That being said, Trump is "somewhat unique in hiring recently retired generals," Purdy said — most notably Gen. Mattis, whose 2013 retirement from active duty put him in violation of the 1947 national security act and its stipulation that all Defense secretary nominees must have been retired for at least seven years.
Mattis' appointment required Congress to pass a waiver exempting him from the law — something that had only been done once before, when President Harry Truman nominated George Marshall for secretary of defense in 1950. The defense secretary position is one "clearly intended for a civilian," Marshall's biography on the Department of Defense website noted.
"The U.S. has a long history of civilian control of the military — the president is the commander in Chief," Purdy said. "So when we begin to get military leaders as head of the Department of Defense, it starts to blur the lines between military control versus civilian control of the military. And that, I think, is a dangerous position to be taking, to be going down that road."
Recent presidential administrations
Military personnel have been found in most recent presidential administrations, though their appointments haven't been quite as concentrated as in Trump's White House.
President Barack Obama's appointments included Gen. David Petraeus as CIA director, along with Adm. Dennis Blair and Gen. James Clapper as directors of national intelligence and former Marine Gen. Jim Jones as Obama's first national security adviser.
Former Air Force Lt. Gen. Brent Scowcroft also served as a presidential national security adviser, serving under Presidents Gerald Ford and George H.W. Bush.
Holding a prominent place in George W. Bush's administration was Colin Powell, a former military general who served as secretary of state. Ronald Reagan also chose a military man as his secretary of state, appointing Army Gen. Alexander Haig — though Haig resigned just over a year into Reagan's first term.
Historical administrations
Looking further back, the last presidential administration before Trump to have at least two former military generals in its cabinet was that of Harry S. Truman, ABC News noted.
Prior to that, the only presidents who have had at least two military generals in top positions are Presidents Rutherford B. Hayes, William McKinley and Ulysses S. Grant, whose Vice President and Secretaries of War and the Navy — all cabinet positions at the time — were former generals, along with veterans in other top White House positions.
"You really have to go back to Grant to find a military man who surrounded himself in his White House staff and in key positions with other men in uniform," presidential historian Richard Norton Smith said in an email.
Smith added that for Grant, these choices helped to "tarnish his reputation." Grant's private secretary Orville Babcock and supervisor of internal revenue John McDonald, both former military generals, became embroiled in the Whiskey Ring, which conspired to defraud the federal government of taxes.
Many of the presidents who have appointed multiple veterans have been "military leaders themselves," Purdy pointed out, such as Grant, Hayes, McKinley and Andrew Jackson, who appointed Brig. Gen. Lewis Cass as secretary of war in 1831. This stands in opposition to Trump, whose appointment of military leaders comes despite the fact that he has never served in the military thanks to bone spurs in his heels that got him deferred from being drafted in the Vietnam War.
While many veteran presidents have surrounded themselves with fellow military personnel, others have taken a deliberately civilian-based approach. According to Norton Smith, President Dwight D. Eisenhower "appointed exclusive[ly] civilians to his cabinet," while Washington — with the exception of Secretary of War Henry Knox — was "careful to avoid any appearance of favoritism toward old soldiers."