'Persona' Dancing: 'Persona 3: Dancing Moon Night,' 'Persona 5: Dancing Star Night' coming in 2018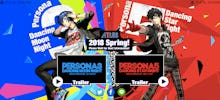 Persona 5 is a much beloved, though somewhat problematic, game here at Mic. So we were pretty excited when Atlus and P Studio treated us to some wonderful news — especially for fans of Persona 4: Dancing All Night for PS Vita.
Persona 3 and Persona 5 will be joining Persona 4 in rhythm game territory. Finally, we'll be able to tap along to "Burn My Dread" and "Shadow World" with Morgana and Joker.
Persona Dancing: Get ready to tap your way to victory in Dancing Moon Night and Dancing Star Night
Persona 4: Dancing All Night is a singular experience in rhythm games. The combination of iconic characters from Persona 4, its exquisite soundtrack and an engaging story post-Persona 4 worked together to create a game that hits all the right notes from start to finish.
Persona 3: Dancing Moon Night and Persona 5: Dancing Star Night will be able to emulate that same quality. According to Polygon, the lead staff that worked on Persona 4: Dancing All Night have been handling the development for both new dancing titles.
There aren't many details about either Dancing Moon Night or Dancing Star Night, but the trailers feature Persona 3's Junpei, Yukari and Aigis, as well as Ryuji, Ann, Makoto and Joker from Persona 5.
Japan will be getting these titles for spring 2018, but it's unclear as to when the west will receive localized versions.
But don't hold your breath for a simultaneous worldwide release, Persona dancing enthusiasts. Persona 5 came out in Japan in September 2016, while the west got our (sometimes iffy) localized version in April 2017. Even Persona 4: Dancing All Night had a few months between the Japanese and U.S. releases.
I'd wager that the west will see Dancing Moon Night and Dancing Star Night in late 2018, if not 2019, depending on how localization efforts go. I don't know about you, but I'm willing to wait for a new Persona dancing game, especially since they'll both be coming to PlayStation 4 and PS Vita.
More gaming news and updates
Check out the latest from Mic, like this deep dive into the cultural origins of Gamergate. Also, be sure to read this essay about what it's like to cosplay while black, a roundup of family-friendly games to play with your kids and our interview with Adi Shankar, producer of the animated Castlevania Netflix series.