'PUBG' Update: Patch Notes introduce first person mode, new gun and character options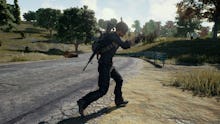 Playerunknown's Battlegrounds is quickly becoming a new favorite for professional streamers. We're still waiting for a console release, of course, but the game has chugged steadily along on Steam with updates. The most recent patch introduced some interesting features, so read on if you're curious to see what's changed.
Playerunknown's Battlegrounds Patch: First person mode is the big change in new update
According to a Steam post from Aug. 1, the game's new update is pretty hefty. Most significantly, the game now has a first-person option for single and duo servers in North America and Europe. The patch notes also state that players who choose these modes will be matched together. Currently, the initial freefall drop from the airplane is still in third person, but the patch notes state that in the future this will also be switched to first person.
The notes also promise two new face presets and hairstyles for players of each gender and a new gun available only in care packages:
The Mk14 EBR is a Designated Marksman Rifle that can only be obtained from care packages. This weapon is chambered for 7.62mm and sniper rifle attachments.
There's bad news for cheaters, as the patch notes also state that "a new feature to report players" was added in the update. Killing a knocked out teammate no longer prevents the person who knocked them out from getting kill credit.
These are all great updates for the game, but the real meat of the patch notes came a little later when talking about vehicles.
Playerunknown's Battlegrounds Patch: You can honk car horns now
Although certain graphical improvements — like adding sparks coming off of flat tires and new tire screech effects for motorcycles are exciting — keep your eye on the prize. The most important update to PUBG in this patch is that now you can honk a car's horn while sitting in the driver's seat with the left mouse.
This is quite frankly huge and has led at least one player to say what we're all thinking:
So if you've got a gaming PC, there's no better time to get out into Playerunknown's Battlegrounds and honk your dang horn until someone blows you up.
More gaming news and updates
Check out the latest from Mic, like this deep dive into the cultural origins of Gamergate. Also, be sure to read this essay about what it's like to cosplay while black, a roundup of family-friendly games to play with your kids and our interview with Adi Shankar, producer of the animated Castlevania Netflix series.