5 big myths about affirmative action in colleges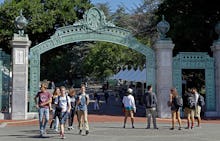 The New York Times reported Monday that the U.S. Department of Justice is preparing to take action against universities over affirmative action policies. According to the Times, the department will specifically be looking for policies they deem to have a discriminatory effect against white applicants.
The idea that affirmative action policies somehow adversely affect white college applicants has been at the center of the debate over affirmative action policies for years. But affirmative action opponents' positions are often based on a number of fallacies about how the policy actually works on college campuses.
Here are five myths about affirmative action that everyone should know.
It imposes a race-based quota system
Perhaps the most pervasive myth about affirmative action is the idea that it imposes a quota system that makes public colleges and universities admit a certain number of people from different minority groups each year. In reality, quota systems like that are prohibited under affirmative action case law. Instead, public schools are allowed to consider race and diversity more broadly in their admissions process.
There is no formula for how administrations should go about trying to increase diversity at their schools, and the metric for compliance has always been whether or not schools are making a "good-faith effort" to prioritize diversity. Schools are not required to admit a certain number of students from any racial category, nor are they required to limit the number of white applicants they accept. They simply consider diversity among a host of other factors when determining who is and is not admitted.
It upends an existing merit-based admissions process
Opponents of affirmative action in colleges often present the argument as a battle between admissions based strictly on academic merit and admissions that consider race over academic performance. This characterization grossly misinterprets the way that colleges and universities assess applicants.
Colleges consider a host of different factors in their admissions processes. These include everything from academic performance and test scores, to non-academic factors like athletic performance, to more subjective criteria like personal admissions essays, leadership and public service.
Affirmative action simply means that colleges also include diversity among these many criteria.
It works against Asian-Americans
Another popular claim made by critics of affirmative action policies on college campuses is that such policies actually serve to disadvantage certain minority groups like Asian-Americans, who are highly represented in tertiary school admissions.
This argument is based on the so-called "model minority" myth about Asian academic performance. But as the Supreme Court determined in a recent high-profile affirmative action case, narrowly tailored affirmative action programs like the ones found at many public colleges and universities do not lead to a drop in Asian-American admissions.
In fact, many argue that Asian-Americans benefit from including diversity as a factor in the admissions process, and polling finds that a majority of Asian-Americans support such programs.
It allows minorities to go to college for free
Some people have recently taken to sharing personal college experiences wherein their white classmates mistakenly assumed that minority students were being given free college tuition through affirmative action. While a number of public and private need-based scholarship programs exist for people of all races, with some focusing on particular races or backgrounds, affirmative action deals with the admissions process, not financial aid.
Because of the persistent income gap that exists between some minority groups and white students, some schools use income-based admissions processes as a way of increasing diversity, but these programs do not exclude low-income white people from eligibility.
There isn't any need for affirmative action anymore
A final argument against affirmative action policies is that the kind of exclusionary racism that precipitated the need for them in the first place is an anachronism in today's America.
This couldn't be less true. Though overt racial segregation in schools has been against the law since Brown v. Board of Education, de facto school segregation is on the rise in primary and secondary education. Between 2000 and 2014, school segregation in America more than doubled, according to a report from the Government Accountability Office. And 61% of schools with a high concentration of low-income students had classrooms that were more than three-quarters black and latino.
Emphasizing diversity in tertiary education doesn't make up for these considerable shortcomings. But it's hard to argue that college diversity requirements are unnecessary at a time when school segregation is only getting worse.