Trump finally signs Russia sanctions bill — behind closed doors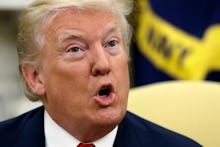 President Donald Trump signed a bill Wednesday morning that imposes new sanctions on Russia for attempting to meddle in the 2016 presidential election.
However, Trump affixed a signing statement to the legislation, raising objections to provisions of the law that curtail his power to ease the sanctions.
"Since this bill was first introduced, I have expressed my concerns to Congress about the many ways it improperly encroaches on Executive power, disadvantages American companies, and hurts the interests of our European allies," Trump said in a statement after signing the bill.
In that same statement, Trump took the time to attack the GOP Congress, saying they "could not even negotiate a healthcare bill after seven years of talking."
He also bragged about his business prowess, saying that he "built a truly great company worth many billions of dollars" and "can make far better deals with foreign countries than Congress."
Trump added, however, that he signed the bill "for the sake of national unity."
"It represents the will of the American people to see Russia take steps to improve relations with the United States," Trump write. "We hope there will be cooperation between our two countries on major global issues so that these sanctions will no longer be necessary."
Trump signed the bill in private six days after it was sent to his desk by the Senate.
The sanctions legislation passed both the House and the Senate with veto-proof majorities — 98-2 in the Senate and 419-3 in the House.
Aug. 2, 2017 11:30 a.m.: This article has been updated.