'Destiny 2' Split Screen: Why Bungie doesn't care about local multiplayer anymore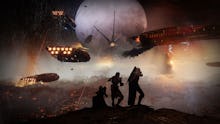 Before Destiny and Destiny 2, Bungie made Halo, an iconic series of games partially defined by how fun it was to play through campaigns with friends in local split screen and online co-op. So it figures that Bungie's next venture, a game where co-op is required to see the best content, would include split screen too, right?
Unfortunately, Destiny never has included split screen, and it doesn't seem like Destiny 2 will ever offer it, either. Why not? Let's dive in.
Destiny 2 split screen? Destiny lives online
Destiny is all about maintaining your own character in a huge, online shared universe. You'll spend countless hours grinding through strikes, raids and whatnot to outfit your character with the best gear so you can stand out in the game's many social spaces.
It's not really a massively multiplayer online game like World of Warcraft, but it cosplays as one. And like it or not, MMOs typically don't support split-screen multiplayer.
Since the PlayStation 4 and Xbox One both allow two accounts to be signed in on one console, that part might not be a huge hurdle. That said, there could genuinely be technical reasons why it's impossible to render the game in split-screen on a single console. If that's the case, Bungie should just come out and acknowledge the issue once and for all.
It would be cool if Destiny allowed roommates or siblings or whatever to run strikes together on the same TV, but in modern gaming split-screen has become an afterthought at best. The internet ruins everything.
More Destiny 2 news and updates
If you can't wait to get back out on patrol with your Fireteam, check out the rest of our coverage for Destiny 2. We've got coverage about why Bungie opted not to use dedicated servers for the sequel, why there won't be cross-play and cross-saves for PC and what you can expect from the game's PC specs and Battle.net partnership. Additionally, you can check out the new Supers being added to the game, some details behind guided games and the new Crucible changes as well. Finally, you can check out our ongoing coverage of the beta here.