A Brooklyn brand sold a $119 "refugee dress." Shoppers weren't happy about it.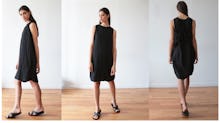 UZI NYC, a small brand based in Brooklyn, New York, has manufactured a light cotton, sleeveless dress in shades of white, navy and black.
Not too controversial at first glance, but now look at the name.
"Refugee dress." For $119, you can buy this "refugee dress."
Over the past few days, word of the dress has been making its way across Twitter, where shoppers are making their outrage over this name known. Responses ranged from "So this brand thought it was appropriate to sell a 'refugee' dress? Disgusting" to "What is this!!??"
One Twitter user even called on the brand to apologize and then donate to organizations like the United Nations High Commissioner for Refugees.
In an email from UZI NYC co-founder Mari Gustafson, the brand stated that they named the dress "refugee" as a way to draw attention to the crumbling global economy back in 2007.
"We named the dress in 2007 when we could not see ourselves escaping the reality of a global economy spinning out of control," Gustafson wrote. "We feel that it is important to keep these issues within public discourse. The American economy has recovered, and through perseverance and luck our company has recovered as well. We are now able to provide jobs for others and give them a sense of hope and stability."
"We could have named the dress anything we wanted but then we wouldn't be having this discussion," Gustafson continued. "The language we have used to describe our fabric is common within the fabric industry, it in no way references human beings. We understand that we have unintentionally offended some people with whom we share the same concerns, but in that process we have also been able to amplify our shared message."
Amid this recent criticism of the dress though, UZI has decided to rename the dress. As Gustafson wrote: "We are praying for universal healing and re-naming the dress the Oxford Dress."
At around 11:45 a.m. on Wednesday, the names officially started to change on UZI's website.