Obama, Clinton campaign veteran team pledges $1.5 million to progressive political tech companies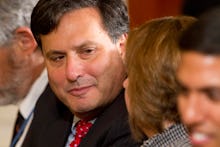 Now that President Donald Trump has rewritten the rules on running for president, a coalition of operatives who worked with former President Barack Obama and on Hillary Clinton's 2016 campaign is paying technologists to rewrite the code for 2018 and 2020.
Saying it's "building an ecosystem for political technology to help progressives win," the progressive group Higher Ground Labs has awarded about $1.5 million to 10 companies in its first round of grants.
"For too long, progressives have counted on presidential campaigns to incubate and build campaign technology — a strategy that isn't optimal when conservatives like the Koch brothers and the Mercers are pumping big money into permanent GOP campaign technology companies," Ron Klain, the HGL advisory board chairman and former White House aide to both Obama and Bill Clinton, said in a statement.
"We need to close this 'progressive tech gap' and Higher Ground Labs is giving these ten promising young companies a jumpstart to have impact in 2018 and beyond."
Among the 10 winning companies:
VoterCircle, a "friend-to-friend" networking tool which can be "used at every stage of a campaign to increase name ID, recruit volunteers, grow email lists, identify grassroots donors and persuade and [turn out] voters."
Victory Guide, which plugs itself as "a digital campaign manager in the cloud."
Hope, which is a part of the Purpose organization and plays on established messaging services and "uses conversation-style stories to inform, activate and motivate the new generation of activists who want to get engaged in making change but don't yet know how."
HGL, which is also underwriting a three-month entrepreneurship-in-residence for a handful of tech leaders, received nearly 150 applications for the first round of company funding, organizers said in a release.
"We're investing in these companies because they show tremendous promise to meet the needs of the progressive campaign eco-system for the next election and the ones after that," HGL's Betsy Hoover, founder of 270 Strategies and former Obama national digital organizing director, said in a statement.