'Sunless Skies' Early Access Release Date: Kickstarted 'Sunless Seas' sequel heads to Steam and GOG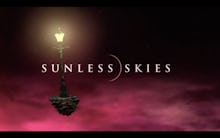 Sunless Skies, the steampunk spacefaring sequel to Failbetter Games' 2015 foray Sunless Sea, is heading to both the Steam and GOG — for early access. If you backed Failbetter's Kickstarter, or if you want more details on how to get into some Lovecraftian spacefaring, here's what you need to know.
Sunless Skies Early Access: early access will players the opportunity to explore one of four regions promised in the full game
In a Kickstarter update posted yesterday on Aug. 1, Failbetter announced that an early access version of Sunless Skies would be heading to Steam and GOG for an early access release at the end of the month on Aug. 30.
Kickstarter backers will receive a key code at the email address they used to back the game. If you've never heard of early access, it's basically a paid beta that offers player feedback to the developers. After its own successful Kickstarter, Darkest Dungeon spent a while in early access before its full release in January of last year.
Curious players who missed the Kickstarter won't be left out in the cold. During its first week of early access, players who didn't back the Kickstarter will have the option to purchase the game at 10% off its $24.99 price tag. For your money, you'll get access to access to The Reach, one of four areas Failbetter plans to implement in the full game, as well as "a broad skeleton of gameplay features to be available. You'll be able to explore the skies, dock at ports, interact with stories, trade, fight and die."
New features will be added into the game during early access, but it'll still be in an incomplete state. So if you prefer to play your games as finished as they can be, you might want to hold off. But if you can't resist the lure of the promise to speak to storms and murder a sun, the early access might be worth your while.
More gaming news and updates
Check out the latest from Mic, like this deep dive into the cultural origins of Gamergate. Also, be sure to read this essay about what it's like to cosplay while black, a roundup of family-friendly games to play with your kids and our interview with Adi Shankar, producer of the animated Castlevania Netflix series.