'The Witcher' Coloring Book Release Date: Yes, it includes the naked bathtub picture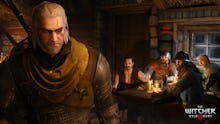 This is a bit of gaming press inside baseball, but one of the funniest things any publication does is the way PC Gamer tweets out stories about The Witcher 3. Below is the default thumbnail image for any PC Gamer story about The Witcher 3. It's not a cool picture of Geralt or Siri or any other character fighting monsters — it's Geralt lounging naked in a bathtub.
I bring this up because CD Projekt Red has announced a Witcher adult coloring book, and there was only one question anyone had about it.
Witcher adult coloring book to launch in November
The 96-page trade paperback is coming courtesy of Dark Horse Comics on Nov. 1. It can be yours for a measly $14.99, which my phone calculator tells me averages out to about 15 cents per page. What a deal.
Per the official product description, it features "Geralt, Ciri, Triss, Yennefer, Roach, Shani and all of your favorite Witcher characters in a variety of fantastic settings." According to CD Projekt Red's Rafal Jaki, one of those fantastic settings is the one everyone wants.
That's terrific. Good on CD Projekt for understanding what the people want. I myself want to see the most skilled artists' interpretations of that scene when the book comes out.
More gaming news and updates
Check out the latest from Mic, like this deep dive into the cultural origins of Gamergate. Also, be sure to read this essay about what it's like to cosplay while black, a roundup of family-friendly games to play with your kids and our interview with Adi Shankar, producer of the animated Castlevania Netflix series.