Donald Trump's approval hits new low as voters cite "profound embarrassment" that he's president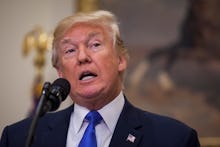 President Donald Trump's approval rating hit its lowest threshold yet Wednesday, with a Quinnipiac Poll finding just 33% of voters saying they approve of the job he's doing.
Even worse for Trump is that 54% of voters say they are "embarrassed" that Trump is president, according to Quinnipiac's data.
"It's hard to pick what is the most alarming number in the troubling trail of new lows for President Donald Trump," Tim Malloy, assistant director of the Quinnipiac Poll, said in a release. "Profound embarrassment over his performance in office and deepening concern over his level-headedness have to raise the biggest red flags."
Trump's 33% approval rating is down 7 points from the end of June, when 40% of voters said they approved of the way Trump is handling his job as president.
His approval rating is underwater in every community, including among white voters without a college degree and white men, two of the demographics that helped carry Trump to victory.
His approval rating even sunk among Republicans. Trump's approval is now at 76% among self-identified Republican voters, down from 84% at the end of June.
Other pollsters similarly show Trump sinking to new lows. Rasmussen, a pollster with results often favorable to the GOP, found Trump at just a 38% approval rating in a survey released Wednesday.
"Trump's overall approval numbers this week are lower than any Barack Obama received during his entire presidency," Rasmussen said in a release announcing the poll results.