Affirmative action for white people has always existed — it's called legacy preference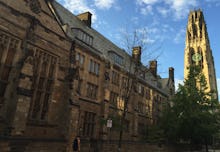 Documents obtained by the New York Times suggest the Trump administration has plans to allocate Department of Justice resources toward suing universities whose admissions officers use "intentional race-based discrimination" against white people.
But as a former U.S. Department of Education employee reminded Mic, the country's universities already have a system in place that heavily favors white students, and has for centuries: It's called legacy preference.
Legacy preference, or legacy admission, is the common practice of admissions officers giving priority to applicants with relatives who have also attended the university. Affirmative action, which became law in 1961, had been just one way to counteract it.
"Institutions that use legacy admissions are those that have historically enrolled upper middle-class white people ... mostly men," David Bergeron, senior fellow for postsecondary education at American Progress, said Wednesday in a phone interview. Bergeron served as acting assistant secretary for postsecondary education at the U.S. Department of Education under President Barack Obama until 2013.
"The students who get legacy preference are going to be the children or grandchildren of that demographic," Bergeron said. "That's going to result in that institution being predominantly white and middle class unless there's a positive action from the institution to change that."
When asked if he considered legacy preference inherently discriminatory, Bergeron said, "Yes, I would."
According to a 2011 study from researchers at Harvard University — an institution that practices legacy preference itself — legacy applicants got a "23.3-percentage-point increase in their probability of admission" just by virtue of their legacy status. If an applicant was a "primary legacy," meaning one or both of their parents had attended the same institution, the percentage-point increase went up to 45.1.
That same year, the Harvard Crimson published a piece revealing legacy applicants to Harvard had an acceptance rate of 30% — more than four times that of a non-legacy applicant.
In 2006, ProPublica editor Daniel Golden wrote an entire book on how the rich "buy their underachieving children's way" into the country's top universities. A classic example, he noted, was the story of Jared Kushner, whose father donated $2.5 million to Harvard just before his admission.
"His GPA did not warrant it, his SAT scores did not warrant it," a former official at Kushner's high school told Golden. "We thought for sure, there was no way this was going to happen. Then, lo and behold, Jared was accepted. It was a little bit disappointing because there were at the time other kids we thought should really get in on the merits, and they did not."
The idea that an unqualified student might take the place of a more deserving one is a common anxiety associated with affirmative action. It's what drove Abigail Fisher, after being rejected from the University of Texas at Austin, to bring a suit against the UT school system all the way to the Supreme Court in 2015. She'd been a legacy applicant.
"I dreamt of going to UT ever since the second grade," Fisher said in a 2012 statement. "My dad went there, my sister went there and tons of friends and family. And it was a tradition I wanted to continue."
The Supreme Court ultimately upheld UT's affirmative action programming, ruling that Fisher hadn't been a victim of discrimination.
Bergeron believes higher education institutions are "rigged against people without resources" — in other words, not the white applicants the Trump administration is reportedly seeking to protect. That's a problem, he said, considering college is believed to be a "gateway" to the middle class. Closing the gateway only serves to "perpetuate a system of gross inequality."
For that reason, Bergeron maintains the legacy system should be abolished.
"I think legacy preference is something that its time has past," he said. "We live in a society today where every student should be evaluated based on their own experiences, their own capabilities and what their goals are. Legacy stands in the way of that."