Louisiana assistant police chief resigns in disgrace after sharing racist meme on Facebook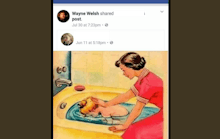 An assistant police chief for the city of Estherwood, Louisiana, has resigned after sharing a meme showing a woman forcing a child's head under water as punishment for dating a black person.
"It's not against the law to share something on Facebook. It's social media. Internet," assistant police Chief Wayne Welsh said on social media in the face of public outrage over the post he shared.
The image Welsh shared depicts a woman in pink shoving a child's head under water in the background. The visual takes on a sinister, explicitly racist meaning when one reads the accompanying text: "When your daughter's first crush is a little negro boy."
The relationship of text to image suggests that the child is being brutalized — and possibly killed — for dating someone black.
A screenshot of Welsh's post went viral on Twitter, garnering over 38,000 retweets by Wednesday afternoon.
Estherwood police Chief Ernest Villejoin told the media that he was shocked by Welsh's post.
"When I found out about it, I couldn't believe I had to call him. I called him at work and asked him what the hell is going on," Villejoin said to a local outlet. "He done it. He said it and he realized what he had done after he done it and he deleted it but it was too late."
Villejoin confirmed to HuffPost that Welsh has resigned over the post.
This isn't the first public figure in the last year to resign after being held accountable on social media for a racist post. In November 2016, a West Virginia mayor left her position after saying that a post calling Michelle Obama an ape in heels "made her day." In February, an Arizona teacher resigned after tweeting that immigrants should be killed.