Elections watchdog group seeks answers after Georgia drops 590,000 from voter rolls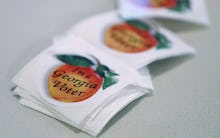 A watchdog group is pushing the state of Georgia to explain why more than 591,000 people were struck from the voter rolls.
"Each of the 591,548 voters affected by the move had already been on the state's 'inactive' registration list," the Atlanta Journal-Constitution reported this week. That means those voters had not cast a ballot, updated their registration or address or responded to efforts to contact them for at least three years.
Let America Vote, an advocacy group run by former Missouri Secretary of State Jason Kander, wrote in a Wednesday letter to Georgia Secretary of State Brian Kemp that federal law doesn't permit the purge of voters simply for not voting.
In the letter signed by Let America Vote's senior policy adviser, Leigh Chapman, the group requested specifics on the people removed from the rolls and documents related to the purge.
Chapman also said her group is "troubled by Georgia's actions" related to President Donald Trump's controversial Commission on Election Integrity.
The Journal-Constitution quoted a Kemp spokesperson saying the removal of the names was part of a standard cleanup of the voter rolls.
That was the case when Let America Vote called out Indiana in April for deactivating about 480,000 voter registrations in what a co-director of the state Election Division told Mic was a routine housekeeping measure.
Similarly, the head of New York City's Board of Elections explained the agency was simply updating its records when officials cried foul over the deactivation and archiving of tens of thousands of registered Brooklyn Democrats in 2016.
Let America Vote and other good-government groups have been sharply critical of the president's election integrity commission, which Trump himself has called his "very distinguished voter fraud panel."
Skeptics say the panel, created after Trump made repeated claims that as many as 5 million fraudulent ballots cost him the popular vote, is a smokescreen for the real goal Vice Chairman Kris Kobach and other conservative panelists have of pushing tighter voting regulations.
While some state election administrators have resisted, initial legal challenges to the panel's request for reams of data including voters' party affiliations, military and criminal records and partial Social Security numbers have largely fallen flat in court.
Kobach himself, however, will have to answer questions under oath in a deposition related to a case brought by the American Civil Liberties Union.
The ACLU is going head to head with Kobach over voting-related documents the Kansas secretary of state and gubernatorial contender brought into a private meeting with Trump between his November victory and January inauguration.
The Kansas Republican had unsuccessfully endeavored to avoid undergoing ACLU questioning, which Politico reported is now set to take place Thursday.
Kobach's office didn't respond to an email Wednesday.