'Hot Mic' podcast: Immigration bill, Russia sanctions, "refugee dress" controversy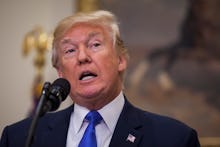 Listen and subscribe to the Hot Mic podcast from your mobile device:
Here are the important stories to know for Thursday, August 3:
1. President Trump announced a new bill that would cut down on the number of immigrants allowed in the U.S.
2. President Trump signed a bill that imposes new sanctions on Russia, but he wasn't happy about it.
3. A fashion brand faced backlash for its "refugee dress."
Direct from Mic's newsroom, Hot Mic keeps listeners informed with a daily run-down of top stories, breaking news and analysis from our news team.