All your favorite rappers are obsessed with the Nintendo Switch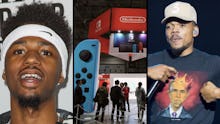 Nintendo has a storied history with rap music that dates back to the earliest iterations of the console. Many a Biggie Smalls fan can recount the line where Notorious BIG couldn't picture owning a Super Nintendo (we feel you on that one, Big).
The saga continues with the new school of rap, as there's no shortage of emcees and producers bragging about their Nintendo Switch on social media. Like who, you ask?
Nintendo Switch and Hip-Hop: Meet the rappers who love their hybrid consoles
Chance the Rapper
On the Chicago rapper's Instagram story, Chance the Rapper comes out as Chance the Gamer.
Lil Yachty
When the whole squad snags a Nintendo Switch, it's worth posting on YouTube. Lil Yachty does just this, and even throws an N64 in the video to shake things up.
Metro Boomin
If Young Metro don't trust you, you'll have problems with Future. If he does trust you, you guys will be racing in Mario Kart like old friends. This isn't the first time Metro has shown us his love for Nintendo.
Travis Scott
Not only does he get those "goosebumps" every time, he also wants to get that Nintendo Switch. If you're still having trouble, Travis, we've got you.
The Weeknd
Apparently The Weeknd is new to playing games online. Yeah dude, of course there's trash talk.
Lil Uzi Vert
And now we know who was the one talking mess with Weeknd.
Just Blaze
Legendary producer Just Blaze spoke with Rolling Stone about the Nintendo Switch. Here's what he had to say about the console:
That's kinda the cool thing about the Switch – when I'm jumping on a plane, a game that I was playing at home I could take with me, right where I left off. The problem is that the Switch doesn't have anything worth playing yet, for me. I've been playing 'Fast RMX' for a half an hour every couple of days when I have a cool-down period, but that's about it. 'Zelda' is cool, and I'm sure it's great, I just don't know if I wanna invest that kinda time and energy into something. I'm waiting for 'Street Fighter' to come out for Switch, which I thought they said was gonna be a launch title.
Oh, do we have some bad news for you.
Soulja Boy
Mr. Tell 'Em has some words about the Nintendo Switch here. Explicit words — so explicit that we won't include the video here, just go watch.
Danny Brown
Danny Brown brings out his Switch every time he flies. At least he did these two times.
Sisqo
Sisqo of "Thong Song" fame talks with GameOverGreggy Show about that Switch, SwitchSwitchSwitchSwitch. Ooh that Switch so scandalous...
Great, now the "Thong Song" is stuck in our head.
Check out more Nintendo Switch news and coverage
Looking for more Nintendo Switch news? Check out how blind gamers are using the Nintendo Switch and why you can't get your Mii to look quite like you. Nintendo's left Joy-Con issue turns out to be a hardware problem — here's how to solve it. Find out how to buy a console amidst the recent restock. Learn why the Switch cartridges taste so bad. Check out our comparison photos sizing up the Switch to the Wii U GamePad (part one and part two), or find out how to make use of ethernet without the dock and the best way to get alerts when new stock arrives.