A day after reluctantly signing Russian sanctions, Trump blames Congress for bad US-Russia relations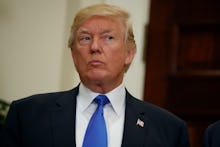 President Donald Trump on Thursday blamed the Republican-controlled Congress for what he called "dangerous" relations between the United States and Russia.
Trump blamed the GOP-led Congress and not Russia, despite Russia's meddling in the 2016 presidential election by launching cyberattacks against Democratic institutions in the U.S.
"Our relationship with Russia is at an all-time and very dangerous low," Trump tweeted Thursday morning. "You can thank Congress, the same people that can't even give us [health care]!"
Trump's attacks come a day after he reluctantly signed a Russian sanctions bill that passed both chambers of Congress with veto-proof majorities. He affixed a signing statement onto the sanctions bill, saying it "encroaches on executive power."
It also comes a day after Russian Prime Minister Dmitry Medvedev called the Trump administration "weak" for signing a bill that ties Trump's hands from easing sanctions on Russia.
"The Trump administration has shown its total weakness by handing over executive power to Congress in the most humiliating way," Medvedev tweeted.
Aside from attacking the Republican Congress over the sanctions bill, Trump also hasn't commented on Russian President Vladimir Putin's decision to expel more than 750 American diplomats from Russia.
Polls show that Trump's dealings with Russia are hurting his approval ratings, which are now at their lowest level yet.
Almost two-thirds (63%) of voters believed the Russian government interfered in the election, according to a Quinnipiac Poll released Wednesday. And another 58% believe Trump "has attempted to derail or obstruct the investigation into the Russian interference."