Trump backing a conservative immigration bill shows he still won't compromise — and get things done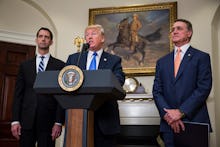 This is Mic's daily read on Donald Trump's America. Welcome to the political newsletter that would like you to think about how your ancestors came to the U.S. 
Want to receive this as a daily email in your inbox? Subscribe here.
Today: President Donald Trump has backed another ultra-partisan bill.
More: Chief of staff John Kelly says Attorney General Jeff Sessions' job is safe.
Even more: Anthony Scaramucci will speak — tomorrow.
Yes, more: Trump is rallying with supporters in West Virginia tonight.
Trump's agenda today: Meeting with his national security adviser. Attending a telehealth event on health care for veterans. Holding a "Make America Great Again" rally in Huntington, West Virginia.
The partisan approach is not getting things done for Trump
President Donald Trump has thrown another partisan bill on the pile he is trying to push through Congress.
On Wednesday, Trump backed legislation that would halve legal immigration to the U.S. — from 1 million green cards issued per year to 500,000 a decade from now.
It would favor immigrants who can speak English, are skilled, have a high-paying job offer and other provisions. The bill is a hard pivot from the long-standing U.S. policy of accepting immigrants regardless of background, particularly those with close familial ties to America.
In fact, in claiming the new bill is not a sharp departure from current policy, a White House official said people who seek to become citizens now must take the citizenship test in English. That's false.
"This legislation demonstrates our compassion for struggling American families who deserve an immigration system that puts their needs first and that puts America first," Trump said in his announcement of the policy at the White House, alongside Sens. Tom Cotton (R-Ark.) and David Perdue (R-Ga.), the bill's co-sponsors.
The legislation has little chance of passing. But that's nothing new for this president.
The RAISE Act joins Republican health care bills, tax reform and infrastructure as partisan promises made by Trump that have been stalled or delayed in Congress. Progress has been slow on building the promised border wall with Mexico. In fact, dozens of regulatory and legislative promises Trump made have gone unfulfilled in his first seven months.
Trump often tweets his frustration over the 60-vote threshold necessary to advance most legislation in the Senate. The RAISE Act would have to meet that threshold. But Trump's biggest failures so far have come from failing to win consensus in his own party. His strict, conservative approach to policy has turned off some Republicans. And it has, so far, closed the door to working with even the most moderate Democrats, like Sen. Joe Manchin (D-W.Va.).
The Senate is preparing to hold bipartisan hearings on health care reform. But Trump is considering cutting aid to help poorer Americans pay for health insurance, a move intended to pressure the Senate into voting to repeal — and not replace — the Affordable Care Act.
Which approach will win out?
News and insight you cannot miss:
BuzzFeed News details how Attorney General Jeff Sessions is rolling back Barack Obama's legacy at the Justice Department. (Chief of staff John Kelly reportedly told Sessions his job is safe.) And Axios writes how Trump has rolled back Obama's energy legacy.
Speaking of Sessions: The Justice Department claims the New York Times story saying it was investigating discrimination against white college applicants is false. The focus is discrimination against Asian-Americans, the department said.
A conservative National Security Council staffer was fired last month for conspiratorial views about the forces working to stop Trump. It was the latest win for H.R. McMaster, Trump's national security adviser who is a by-the-book former general, in his struggle to win influence over far-right opinions in the White House.
Anthony Scaramucci, the hedge fund manager who was White House communications director for 10 days, will hold a livestream event on Friday. His plans to reshape the White House's communications strategy leaked on Wednesday. They focused on stopping leaks and building better relationships with the mainstream media.
A new poll finds Trump's approval rating is just 33%.
Trump signed a bill stiffening sanctions on Russia — with a note that he did not appreciate the legislation's focus on removing some of the White House's power over sanctions.