'Rocket League' Language Ban Update: System will automatically ban users for slurs and harassment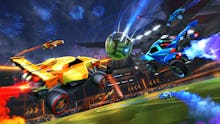 If you had to rank all the hateful slurs you know from bad to worst, how would you arrange them? That's the strange, puzzling task Psyonix, the developers of the wildly popular soccer-like sports game Rocket League, had to tackle when it decided to update its system for curbing in-game harassment.
The new automated system will be able to detect when a player types a slur and will dole out the punishment Psyonix has deemed appropriate for each word. In total, its current library of slurs includes more than 20 words, but Psyonix isn't saying what words are included — nor is it saying what punishments are tied to each word.
"Each word has its own threshold, and once a threshold for any word has been reached, that player will be automatically subject to a ban," Devin Connors, community manager for Psyonix, said in a blog post. "These bans will typically start at 24 hours, then escalate to 72 hours, one week and finally, a permanent ban."
Any time a video game developer decides to get serious about tackling the epidemic of in-game harassment is good news, but this method in particular raises an interesting question: Why is it OK to use certain slurs more than once, but others deserve instant punishment? Psyonix didn't say, but it sounds like a matter of prioritizing the most serious cases of harassment over your garden-variety trash talking.
"Of the thousands of reports we receive every day, the majority are tied to in-game abuse and harassment — typically in the form of abusive language," Connors continued. "This new language ban system will help us address reports quickly and precisely while we also continue our usual monitoring of Reddit and other social channels for feedback."
It should go without saying, but let this be a lesson: Be nice to your fellow players and choose your words carefully, or else you might find yourself on the smashy end of Psyonix's ban hammer.
More gaming news and updates
Check out the latest from Mic, like this deep dive into the cultural origins of Gamergate. Also, be sure to read this essay about what it's like to cosplay while black, a roundup of family-friendly games to play with your kids and our interview with Adi Shankar, producer of the animated Castlevania Netflix series.