The subtle way your Facebook feed is about to change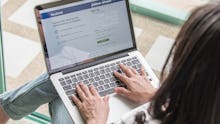 On Wednesday, Facebook announced that the news feed is about to change. According to the social media giant, stories that load faster on mobile devices will be prioritized, meaning users will see fewer stories that take longer to load.
"We've heard from people that it's frustrating to click on a link that leads to a slow-loading webpage," Facebook engineers Jiayi Wen and Shengbo Guo wrote in the announcement. "In fact, even more broadly on the internet, we've found that when people have to wait for a site to load for too long, they abandon what they were clicking on all together. As many as 40% of website visitors abandon a site after three seconds of delay."
To implement this update, Facebook will estimate a webpage's load time based on factors like a user's network connection and the speed of a webpage. Facebook's assessment of load time will determine whether a link appears higher or lower in a user's feed.
Facebook, which has 2 billion monthly active users, says it already uses this type of system for video content. Say you're connected to a slow internet connection — the platform will adapt to show you less videos and more status updates and links.
Noticeably missing from their announcement is any mention of Facebook Instant Articles — the platform's in-house tool for publishers to create interactive articles on Facebook. Content from Instant Articles is, according to Facebook, 10 times faster than standard mobile web articles. This, coupled with Facebook's new algorithm change, suggests Instant Articles will rank higher in a news feed.
"We are not making this update to prioritize Instant Articles," a Facebook spokesperson told TechCrunch. "We are making this update in response to what people have told us. We know that faster loading webpages are a better experience for people, both on Facebook and across the internet," they said.