Kim Kardashian West cosigns the male makeup revolution with a Patrick Starrr tutorial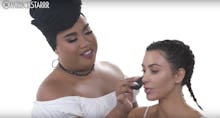 Kim Kardashian West, a makeup icon herself and a contouring connoisseur, has given a seemingly official stamp of approval for all those male beauty bloggers who are making the makeup industry a more inclusive place.
On Thursday, West debuted a makeup tutorial with the hugely popular male beauty vlogger Patrick Starrr and teased it on her own Instagram profile.
In the tutorial, Starrr gives West a natural glam look in 30 minutes, with West starting the video out with a bare face.
To promote her KKW Beauty line, which debuted in June with a contour and highlight kit, West has been doing tutorials with different makeup vloggers. But this one feels special because rather than going to someone like Huda Kattan, West jumped on the male beauty revolution bandwagon.
It looked like they had fun, too, with Starr and West chitchatting about beauty, daily morning routines, their families and makeup tips and tricks.
This is far from the first time West has endorsed men in the makeup world. One of her main makeup artists is Mario Dedivanovic, after all.
And at her KKW Beauty launch, a whole slew of male beauty bloggers were in attendance, like James Charles, Manny Gutierrez — who's also known as Manny Mua — Gabriel Zamora and, yes, Patrick Starrr.
As more men continue to embrace makeup, and vloggers land beauty campaigns of their own, it looks West will be there to support them.
You can see Kim's entire tutorial with Patrick Starrr below.