'Midnight Club' 2017 Reboot: Leaked screenshots supposedly show new game in Rockstar's racing series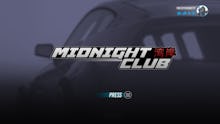 Originally a PS2 launch title, Rockstar's Midnight Club series gained a following for its open-world checkpoint racing and highly customizable cars. Each entry took players to virtual renditions of major cities and allowed them to dominate the local racing scene however they liked.
The franchise has been dormant ever since 2008's Midnight Club: Los Angeles, with Rockstar focusing mostly on Grand Theft Auto and Red Dead Redemption ever since. Thanks to some supposed leaks on Reddit, it seems a new Midnight Club could be coming soon.
Alleged Midnight Club screenshots appear on Reddit
Redditor Derik2502 claims to have found these screenshots on the Xbox Live profiles of Rockstar developers who are testing the game. One of them shows a title screen, which you can see above. The other shows a car selection screen, which you can see below:
Derik2502 also provided links to the images on the Xbox Live servers, which of course are dead at this time.
I'm not sure about this. If this is a new game, that car model doesn't look up to the standards of modern driving games, to me. It looks like an Xbox One rendering a toy car. The user interface in that screenshot also isn't great, though I suppose that isn't necessarily damning evidence that it's fake.
There's some speculation that it could be a remake of an old Midnight Club rather than a new game, which might explain the look of the car model. That said, VG247 pointed out that the screenshot shows a 2015 Mustang, which obviously would not be in any old Midnight Club games. They also made the astute observation that these screenshots, which allegedly came directly from the Xbox Live servers, shouldn't be as blurry as they are.
Still, stranger things have happened. Considering how GTA Online is basically a new Midnight Club at this point, I don't believe the series is coming back, but we'll see.
More gaming news and updates
Check out the latest from Mic, like this deep dive into the cultural origins of Gamergate. Also, be sure to read this essay about what it's like to cosplay while black, a roundup of family-friendly games to play with your kids and our interview with Adi Shankar, producer of the animated Castlevania Netflix series.