What Melania Trump wore her 28th week as first lady — the one time she kinda, sorta appeared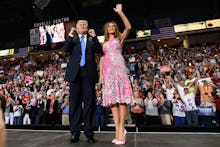 Melania Trump had a rather mysterious week. She appeared just once, and the only reason we even know of that appearance is because she tweeted out a rather blurry picture of it.
So that leads us to wonder: What is Melania Trump up to?
We know that she's planning her first solo trip as first lady in September. And, starting Friday, her husband's planning to take a 17-day vacation. Perhaps she's planning to show off some inspiring looks then? Who knows?!
But anyway, just one outfit this week, and it's everything you'd expect a Melania Trump outfit to be.
Monday, July 31: A white Michael Kors for meeting White House interns
This isn't an official appearance, but let's just count it because it's all we've got at time of writing. Posing for a picture with East Wing interns on Monday, Trump appeared in a white sheath dress with buckle detailing at the waist from Michael Kors.
According to Vogue, she wore python Manolo Blahnik heels.
Kors has been a regular staple of Trump's wardrobe thus far. Memorably, she wore a white Kors suit in Israel, and a black, sparkly one for her husband's first joint address.
The look this week was very typical Melania, from the defined waist to the simple lines. With a lengthy vacation ahead of her, perhaps we'll see a bit more experimentation soon.
You can see previous recaps of what Melania Trump wore here.