Tesla Model 3 Release: When will the new cars actually ship?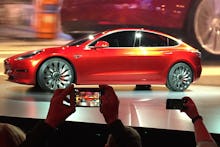 In early 2016, Tesla started accepting pre-orders for the Model 3 — a mass-market sedan starting at a lower price point of $35,000, not including federal or state incentives. Those who placed a $1,000 refundable deposit joined the queue for the car.
On July 28, the California carmaker delivered 30 Model 3 electric vehicles to buyers — all Tesla employees — at a launch event at the Tesla factory in Fremont, California.
To bring the electric car to the mainstream market, the company is planning a Model 3 production ramp: In August, 100 more of the battery-sedan will be built, followed by 150 in September. A letter to investors has disclosed that Tesla plans to ship entry-level Model 3s in the U.S. by November. By the end of December, the company is planning to have 5,000 vehicles made a week.
To make this timeline a reality, the company will face manufacturing obstacles. "We're going to go through at least six months of production hell," CEO Elon Musk said at a press conference before the Model 3 handover event.
Things outside of the U.S. will be different, as deliveries won't start until "late 2018." Further delays will take place for right-hand-drive markets, which will not receive deliveries until 2019.
Over the past year, about 63,000 customers have canceled their Model 3 orders. But there's some momentum building since the handover event. According to Tesla, there have been 1,800 Model 3 reservations per day since the event.
In its earnings letter for 2017 Q2, the company revealed how the process will work, TechCrunch reported. Thus far, thousands of employees who pre-ordered have access to the Model 3 configurator so they can begin customizing their orders. Non-employee pre-oder customers are slated to receive invites to configure their vehicle in small groups — the timeline varies based on where they stand in the pre-order list and priority will be given to existing Tesla owners.