Voters broadly support transgender people serving in the military, poll finds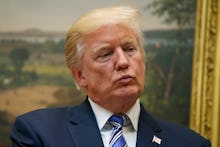 President Donald Trump's ban on transgender service members is not popular among the American electorate, according to a new Quinnipiac poll released Thursday,
More than two-thirds of voters, or 68%, say transgender people should be able to serve in the military, according to the poll. What's more, 55% of voters in military households said transgender people should be able to serve.
The only group to oppose transgender military service members are Republicans, who say by a margin of 60% to 32% that transgender people shouldn't be able to serve.
"Voters say a soldier is a soldier, no matter what his/her gender identity is," Tim Malloy, assistant director of the Quinnipiac poll, said in a news release. "Voters say, 'Let them serve.'"
Trump's announcement that he would ban transgender individuals from serving in the military was met by condemnation from all sides of the political spectrum.
A number of Republican lawmakers, including conservatives, said they did not support Trump's ban.
And military leaders pushed back against Trump's announcement, saying they would not change the policy until a formal plan is drawn up.
Gen. Joseph F. Dunford Jr., chairman of the Joint Chiefs of Staff, said there would be "no modifications" to policies regarding transgender service members until the military received more direction than what Trump sent in a tweet.
"In the meantime, we will continue to treat all of our personnel with respect," Dunford wrote in a letter.