'NBA Live 18' WNBA: 21 years after its debut, women's basketball is finally included in a video game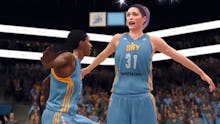 The WNBA has been around since 1996, with twelve teams across the United States comprising the women's professional basketball league. In all that time, it's never been represented in a video game. Anyway, that's about to change with NBA Live 18. It may have missed its original release date and gotten a name change, but it seems that extra development time has paid off in the form of WNBA inclusion.
All WNBA teams and players to be included in NBA Live 18
According to the game's official website, all 12 WNBA teams will be available to play as in Head-to-Head mode. Unfortunately, it looks like the WNBA won't factor into the game's single player career mode. The league and its players will be relegated to the basic "hey let's play some basketball" mode.
The other, far more concerning catch here is that it's in NBA Live 18 and not NBA 2K18. In case you don't follow this stuff closely, 2K is considered by most to be a far better basketball game. The last NBA Live game was largely panned by critics for failing to live up to the high standards of its competitor.
Still, NBA Live 18 could reverse that trend and actually be a decent game, which would be great for a lot of reasons. Women (or anyone else) who want to play a basketball game as women deserve it. I hope 2K follows suit, as well.
More gaming news and updates
Check out the latest from Mic, like this deep dive into the cultural origins of Gamergate. Also, be sure to read this essay about what it's like to cosplay while black, a roundup of family-friendly games to play with your kids and our interview with Adi Shankar, producer of the animated Castlevania Netflix series.