'Luke Cage' star Mike Colter doesn't think about "being the only black guy" on 'The Defenders'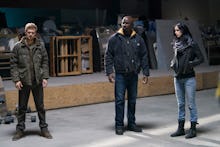 When we pick up with Luke Cage (Mike Colter) in Netflix's superhero-crossover series The Defenders, he's finishing the stint at Seagate Prison that he was sentenced to at the end of Luke Cage's first season, and reuniting with Claire Temple (Rosario Dawson) for some long-awaited "coffee." Harlem's happy to have its near-indestructible hero back: The borough, as well as the rest of New York, is in peril thanks to the Hand — the mysterious, ninja-filled organization previously seen in Daredevil and Iron Fist.
Cage isn't taking on the Hand alone, though; he's joined by Daredevil (Charlie Cox), Iron Fist (Finn Jones) and Jessica Jones (Krysten Ritter). But it's the reunion with Jessica Jones — the only two out of the four New York-based heroes who've met before — that's sure to have fans intrigued. During Jessica's standalone Netflix series they had a brief, passionate and very complicated fling: Jessica, under the control of the monstrous Kilgrave, murdered Cage's wife; then Cage, under Kilgrave's control, almost murdered Jessica.
During a press event for The Defenders in New York, Colter clarified that reuniting with Jessica shouldn't invite any speculation over a love triangle between him, Jessica and Claire — or, as Finn Jones joked, between Luke, Claire and Iron Fist.
"It's not really a love triangle because Luke, he has one person on his dance card at a time," Colter said. "Such a good guy, one 'coffee' date per person. It's just one of those things, I think Luke is a hopeless romantic."
The first season of Luke Cage, which premiered in September 2016, was the start of a new wave of black superheroes making the leap to television and film. The CW's Black Lightning series and Marvel's Black Panther film will both debut within the next year, DC's Cyborg movie is expected in 2020 and the second season of Luke Cage is expected to arrive in 2018. The show's first season was especially powerful, having Harlem's hero devote a handful of monologues on historical black figures and wear a bullet-ridden hoodie as a callback to the tragic death of Trayvon Martin. (Wu-Tang Clan's Method Man even produced an original song for the series, "Bulletproof Love.")
When asked if there was any pressure in being "the only black guy in the room" for a series like The Defenders, Colter said he doesn't think of it that way.
He explained:
"I'll be honest, I think any time any black person or minority ascends to any sort of success, they always have to take a path that is littered with non-ethnic people because it's just ... there's so many opportunities that are not [available]. There's Obama. We know that — and it's not like there aren't other people like Obama — but it was Obama, so now Obama had to be that first guy. When you look at, any time you're in a room and you're the only minority, the thing is to be successful — you're never thinking [about being the only one]. The person who's successful is never thinking that. If you're thinking that you're the only minority, you're probably using your brain space for the wrong thing; the only thing you should be thinking about is how to be successful."
The Defenders is available on Netflix Aug. 18.
Mic has ongoing coverage of The Defenders. Follow our main The Defenders hub here.