Sterling K. Brown explains why Randall on 'This Is Us' is such an important character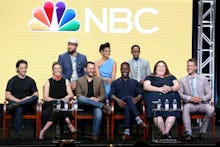 LOS ANGELES — As Randall Pearson, one-third of the Big Three on This Is Us, Sterling K. Brown has been well-recognized for his work. Among other prizes, the actor is currently nominated for an Emmy for portraying the weather trader, husband, father and son. Combined with the show's huge audience, it's safe to say Randall is beloved.
But during the This Is Us panel at the Television Critics Association summer tour on Thursday, Brown explained why he thinks the character is not just popular, but important. Simply put: He stands at odds with a common cultural perception.
"The perception in the country at large is that black men are absent when it comes to their families," Brown told the group of collected television reporters when answering a question about the show's positive portrayal of fathers. He acknowledged that whether or not the perception is true, it's there. So Randall — as a family man who is not just present, but engaged — is a vital character on TV.
"You see a black man who loves his wife to the core and his children to the core — it's a wonderful image to put out in the world," he added.
It's something the actor said has been particularly important to him in his performance — and will continue to be so as the show prepares for its season-two premiere. "I don't take it lightly," Brown said.
This Is Us' sophomore season premieres at 9 p.m. Eastern time Sept. 26 on NBC.
Mic has ongoing This Is Us coverage. Please follow our main This Is Us hub here.