Despite Gov. Andrew Cuomo's defiance, White House election panel will get some New York voter data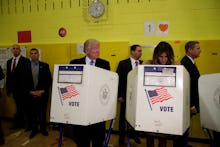 When the election integrity commission created by President Donald Trump asked all 50 states to provide reams of data on registered voters, New York Gov. Andrew Cuomo wasn't interested.
Cuomo pushed back, saying in a June statement that "New York refuses to perpetuate the myth voter fraud played a role in our election."
Turns out the panel is getting the data it wants — or some of it, anyway.
Just as any citizen might do, a representative of the panel filed a request under the Freedom of Information Law with the New York State Board of Elections. The board is an independent agency, and it, not Cuomo, controls the voter registration data.
Douglas Kellner, a state Board of Elections commissioner, said via email that two data request letters sent by panel vice chairman Kris Kobach — the first in June and a second in July after a court win — were rejected in part because they asked for protected information.
Additionally, New York law says voter registration data can't be used for "a non-election purpose."
Kellner said the information the panel is getting is data that's only publicly available: "It does not contain any sensitive voter information, including but not limited to Social Security numbers or Department of Motor Vehicle information, that was originally requested by the commission."
Cuomo, in a Wednesday statement about New Yorkers' data being handed over to Trump's panel, covered much of the same ground.
He also doubled down on his criticisms of the entire exercise, in which he's not alone in his skepticism:
To be clear, the original letter from the President's Election Commission requested information that the commission is not legally entitled to obtain. Accordingly, our administration rejected that request because it not only violated privacy rights — but also state law. Our position remains unchanged and we will continue to deny requests for sensitive personal data about New York residents, which is protected under the law. We will never provide private voter information to anyone, especially a politically motivated organization seeking to perpetuate the myth of voter fraud.
Kobach, who is both the sitting Kansas secretary of state and a candidate for governor, and other members of the panel have argued they're only asking for information the states can provide by law and already give to reporters and political parties.
Additionally, the panel has already survived a series of preliminary legal challenges to its work filed on privacy and technical grounds.
A spokeswoman declined comment via email on Thursday when asked about Kobach having to answer questions under oath in a case involving the ACLU and voting-related documents the Kansas official brought to a post-election meeting with Trump.
Kobach had attempted to avoid the questioning, but a federal appeals court denied his request.