Trump called New Hampshire a "drug-infested den." What do Republicans in the state think about that?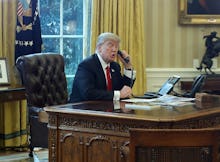 President Donald Trump in January told Mexican President Enrique Peña Nieto that he won the state of New Hampshire because it is a "drug-infested den," according to transcripts of a phone call obtained by the Washington Post.
"We have the drug lords in Mexico that are knocking the hell out of our country," Trump said in the transcripts published Thursday. "They are sending drugs to Chicago, Los Angeles, and to New York. Up in New Hampshire — I won New Hampshire because New Hampshire is a drug-infested den — is coming from the southern border."
Trump won New Hampshire in the Republican primary but lost to Hillary Clinton in the general election. His comments drew swift rebuke from Republican Gov. Chris Sununu, who said the president had slurred the Granite State and the progress it has made on its opioid crisis.
"The president is wrong," Sununu said in a statement Thursday. "It's disappointing his mischaracterization of this epidemic ignores the great things this state has to offer."
"Our administration inherited one of the worst health crises this state has ever experienced, but we are facing this challenge head on," Sununu added, noting that state efforts had resulted in opiate overdoses and deaths declining in parts of the state. "In spite of this crisis, New Hampshire remains the best place to live, work and raise a family."
New Hampshire has become the front line of the nation's crippling opioid crisis. In 2015, it had the second highest opioid overdose death rate in the country and the highest fentanyl-related death rate per capita in the country.
Depending on who you ask in the state, the drug issue is either a problem being exacerbated by the Trump administration's policies or one that Trump, who campaigned on ending the crisis, is taking big steps toward addressing.
Sen. Maggie Hassan (D-N.H.) criticized Trump's remarks as "disgusting" on Twitter and called them "insulting" to those in the midst of addiction and recovery.
"The heroin, fentanyl, and opioid epidemic is the most pressing public health and safety challenge facing New Hampshire," Hassan said in an emailed statement to Mic. "Rather than insulting people in the throes of addiction, we need to see action from President Trump because people are dying."
According to Hassan, the state needs more federal resources, stronger treatment and help addressing the problem of new synthetic opiates from the Trump administration. But proposed cuts to Medicaid and to National Institutes of Health funding, Hassan said, will make the problem worse.
State Republicans, however, see it differently.
While some New Hampshire Republicans Mic spoke with Thursday felt Trump's comments to the Mexican president "mischaracterized" the state, they were at least cautiously optimistic about the way the administration was addressing the problem.
"It's not a flattering depiction," Brian Murphy, chairman of the Rockingham County Republican Committee in New Hampshire, said in an email. "Having said that, anyone who wastes time being offended by the description is missing the bigger point. President Trump is making good on his campaign promise to bring attention and resources to a very specific public health crisis."
Frank Sapareto, a Republican who serves as vice chairman of the Criminal Justice and Public Safety committee in the New Hampshire state house, said in a phone interview Thursday that Trump's comments in January were "right on the money" and came after conversations Trump had with he and other New Hampshire lawmakers. During those conversations, according to Sapareto, Trump truly "listened" and "wanted to learn."
"He's right," Sapareto said of Trump's description of New Hampshire as a "drug-infested den." "I'm very pleased with Mr. Trump's response and what they're doing now."
In March, Trump issued an executive order to create the Commission on Combating Drug Addiction and the Opioid Crisis. The commission, led by New Jersey Gov. Chris Christie, called on Trump to declare a state of emergency to deal with the crisis in its interim report Monday, which was issued after the committee was criticized for missing two deadlines.
"Declare a national emergency under either the Public Health Service Act or the Stafford Act," the report read. "With approximately 142 Americans dying every day, America is enduring a death toll equal to September 11th every three weeks."
The commission did not respond to Mic's request for comment on Trump's Jan. 27 remark on New Hampshire, but Patty McCarthy Metcalf — executive director of the advocacy group Faces & Voices of Recovery — said that the "drug-infested den" comment would "not poll well" among the recovery community and urged him to call a national emergency to address the crisis.
"If the President does not heed the recommendation of his commission...the recovery community will certainly come back to speak out strong and loud to make sure their voices are heard in New Hampshire and nationwide," McCarthy Metcalf told Mic by phone.
The White House said Monday that it would "immediately begin reviewing its recommendations" of the commission, but some have suggested the administration of moving too slowly on the crisis. Further, experts have said that the Republican health care proposals backed by Trump — his proposed cuts to the Office of Drug Policy and Attorney General Jeff Sessions' push for harsher drug sentencing — will worsen the epidemic.
Joe Hannon, a former Republican state representative, said in a phone interview that the problem facing New Hampshire has been decades in the making, the result of bad policy predating the current administration.
He feels encouraged by the commission's interim report, which seemingly followed the experts' advice and takes a "demand-side approach" rather than a "supply-side" one emphasized in the so-called War on Drugs, but emphasized that it's still too early to assess how well the administration is addressing his state's opioid problem.
"We have to move beyond the rhetoric and politics on both sides," Hannon said, adding that, despite what he felt were "unfortunate" comments by the president, the remarks provided an opportunity to discuss the issue.
It's an issue, Hillsborough County Republican Committee chairman Chris Buda said, that is "only getting worse."
"We lose people everyday to opioids and it is only getting worse with synthetic substances like fentanyl," Buda said in an email. "I see no end in [sight] to this problem here."
While Buda said Trump's words were poorly chosen, the chairman also said that it indicated "the administration takes [New Hampshire's] drug problem seriously and is working to solve it."
In his remarks to the Mexican president in January, Trump said he needed a border wall to stop "pretty bad hombres" from bringing drugs into the U.S.
"We have a massive drug problem where kids are becoming addicted to drugs because drugs are being sold for less money than candy because there is so much of it," Trump said, urging his counterpart to stop publicly saying Mexico wouldn't pay for the controversial wall. "So we have to work together to knock that out."