Sen. Mark Warner is keeping his head down — but still digging into Donald Trump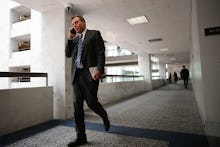 WASHINGTON — Mark Warner is not looking to become a target of the president's Twitter feed. In a Thursday interview with Mic, the Virginia Democrat ducked questions on how his Senate Intelligence Committee investigation is tied to the president.
Warner would not say whether the committee, of which he is the ranking Democrat, is looking into more than Russian election hacking. He wouldn't say what links to the Oval Office are being investigated. He said, so far, Trump campaign aides are cooperating with the committee. But when asked if his committee has interviewed people who worked on the campaign, Warner said, "Great to see you" — then smiled and rose from his chair in his seventh floor office near the Capitol.
Don't let Warner playing coy fool you: the second-term senator is hard at work digging into Trump — and he's still deeply concerned about the security of American elections, particularly those happening in his home state this fall.
Paul Manafort, Trump's former campaign chairman, and Jared Kushner, the president's son-in-law and top adviser, have both testified privately before the committee. Warner has said he believes both will need to testify again but, so far, has not had to seek subpoenas to force cooperation.
Late last month, it was reported special counsel Robert Mueller had widened his Russia probe to include an investigation into Trump's finances. Nearly a month earlier, Warner told reporters the committee was investigating financial transactions among Trump associates.
The Mueller news drew a string of angry tweets from Trump and reports he has considered firing Mueller. Warner is keeping his head down — and has not drawn a similar rebuke. (It was reported Thursday afternoon Mueller impaneled a grand jury in the Trump-Russia probe as senators pushed a bill to prevent Trump from firing the special counsel.)
"I can't reach any conclusions until we have all the facts," Warner said. Asked if that means he has not seen anything to make him think Trump has reason to worry about the Russia investigation, he flashed a smile: "If I had, I wouldn't tell you anyway."
It's not that Warner won't criticize Trump. He does so regularly. He criticized Trump on Twitter for saying Congress is to blame for poor relations with Russia. "The failure of the president of the United States to acknowledge the seriousness of this [election hacking] attack means there is not a White House driven, whole-of-government approach to prevent the Russians from doing this again," Warner said Thursday.
But Warner has made a point of calling his investigation "bipartisan" and speaking highly of Sen. Richard Burr (R-N.C.), the chair of the Senate Intelligence Committee. A follow-the-facts mentality has driven the former cell phone investor turned Virginia governor and, now, a chief Trump investigator.
Warner's concerns over hacking have grown as he dove deeper into how Russia sought to influence the 2016 election. Officials revealed in June that Russians attempted to hack voting systems in 21 states. The Department of Homeland Security has declined to reveal those states publicly, other than Arizona and Illinois, which were reported in August 2016.
Warner said Homeland Security has also declined to privately reveal the states where voting systems were the target of hacking. Top election officials in targeted states have yet to be told they were targeted.
"The reason is because secretaries of state don't have a high enough security clearance," Warner said. "That's crazy!"
As the committee remains focused on Trump and his aides, it will also need to branch out to a broader conversation about modern cybersecurity, Warner said. He introduced a bill earlier this week that would require the federal government to only purchase internet-connected devices that can be secured.
With 20 billion devices expected to be online by 2020, Warner is concerned a massive cyberattack could seamlessly take control of security cameras, Facebook feeds, Amazon Alexas and much more. He said his committee needs to work more closely with Facebook, Twitter, Google and other social media companies to safeguard sources of news and information from undue influence.
"I love all the upsides of this technology, but we have opened a Pandora's Box here in terms of information flow," Warner said. "We're in a brave new world."