Here's why the 'Will & Grace' revival will ignore the original series finale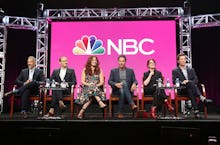 LOS ANGELES — Will & Grace may be returning to TV, but the characters of Will Truman and Grace Adler will be in a much different place than when we last saw them.
As has already been mentioned ahead of the gay NBC sitcom's fall revival, Will & Grace flash-forwarded several years into the future at the end of its initial run. That future created a universe where Will and Grace hadn't spoken for several years — including for the duration of 2017.
Creators David Kohan and Max Mutchnick clarified Wednesday that the show would be ignoring the finale entirely. Will and Grace's kids will be written out, and their estrangement never happened.
During their panel at the summer 2017 Television Critics Association press tour, the creators — as well as main cast members Eric McCormack (Will), Debra Messing (Grace), Sean Hayes (Jack McFarland) and Megan Mullally (Karen Walker) — further explained why: They wanted the friends to be together.
"What is the thing that was best about the show?" Mutchnick said the creative team asked itself as it returned to start writing. He then gestured to the actors, calling their dynamic "lightning in a bottle."
"We spent the most time in story camp figuring out how to tell the audience where they are at and what they are up to at this time," Mutchnick explained. One major factor: The characters have been living together for the entirety of the time Will & Grace has been off the air.
Kohan called the finale "more or less a fantasy" that was easy to remove. McCormack echoed that, saying the ultimate resolutions of the stories — Will and Grace coming back together years later as their kids started college together — as "happy endings, [which] aren't very funny."
The new universe of Will & Grace will be quite permanent. NBC Entertainment head Bob Greenblatt announced at the beginning of the panel that Will & Grace was already renewed for a second revival season.
Mic has ongoing Will & Grace coverage. Please follow our main Will & Grace hub here.