'Hot Mic' podcast: Low support for transgender ban, Trump's call transcripts & World Overshoot Day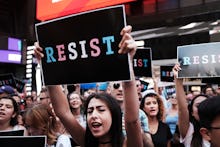 Listen and subscribe to the Hot Mic podcast from your mobile device:
Here are the important stories to know for Friday, August 4:
1. President Trump's ban on allowing transgender people to serve in the military is not very popular among voters.
2. Transcripts of phone calls from early in Trump's presidency show he knew Mexico would never pay for his border wall.
3. World Overshoot Day fell on August 2 this year, the earliest it's ever been.
Direct from Mic's newsroom, Hot Mic keeps listeners informed with a daily run-down of top stories, breaking news and analysis from our news team.