After Trump's proposed military ban, 17.5% of people who called this LGBT hotline were trans youth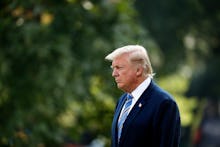 On an average day, about 7.3% of the people who call the Trevor Project, a crisis intervention and suicide prevention organization for LGBTQ youth, identify themselves as transgender. But in the 24 hours following President Donald Trump's announcement that he planned to ban all trans people from the U.S. military, the Trevor Project's calls from trans youth jumped to 17.5%.
According to a press release from the organization, the volume of calls Trevor Project counselors fielded from trans youth in this 24-hour period last month exceeded those they received in the entire week following Texas' introduction of a bathroom bill, legislation requiring people to use the restroom that corresponds to the gender they were assigned at birth. At the time, calls from trans youth doubled to 14.7%.
In his July announcement on trans troops — which arrived by way of Twitter — Trump said trans people "burdened" the military with "tremendous medical costs" and caused a "disruption."
"This data makes clear that our elected officials can no longer ignore that their anti-transgender rhetoric is putting lives at risk," Trevor Project CEO and Executive Director Amit Paley said. "Anti-LGBTQ rhetoric and legislation directly leads to crisis among our community's young people."
A number of current and former trans service members spoke out against the president's decision, including retired Army Sgt. Shane Ortega, who called Trump a "war-dodger."
"To be quite frank, my first thought was, 'Fuck!'" Ortega told Mic in a phone interview last month. "Trump is a man who is literally a war-dodger, who comes from a life of privilege and silver spoon, who has no connection to reality whatsoever, and I don't know how much more the American public needs to see that."
The evening of Trump's announcement, hundreds gathered in New York City's Time Square to protest his decision and show solidarity with people like Ortega, sending the president a clear message: Americans won't tolerate discrimination.
Paley said she hopes people continue to hold their elected officials accountable for both their words and actions.
"While the Trevor Project will continue to be there for them around the clock, our elected officials must stop throwing young people into crisis for political gain," Paley said. "Discrimination is un-American, and we will hold to account those legislators who attack the most vulnerable members of the LGBTQ community."