Outrage ensues after a website is caught using white models to show "Black Girl Magic" T-shirts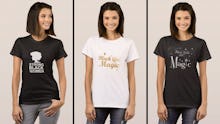 When you scroll through a site like Zazzle.com, which allows people to design and upload personalized T-shirts and coffee mugs and rugs and so on, you can expect to see some weird stuff. But this — first caught by YouTube star Jackie Aina on Twitter — maybe tops everything.
For a number of T-shirts that celebrate and empower black women and their beauty, featuring sayings like "Black Girl Magic," "Melanin Goddess" and "Strong Black Women," a model who is not black is used.
See for yourself:
For Aina, it was jarring, to say the least.
Then other people weighed in.
Not every T-shirt celebrating black women is shown on a white model. There is a token black model, here and there.
But scrolling through the website, the sight is pretty shocking. Mic reached out to Zazzle to find out what happened. Turns out, it's on the designers who created these T-shirts to choose their models.
"In the case of the T-shirts in question, each designer is shown a series of pre-posed randomized model shots upon which their design is placed," a Zazzle spokesperson said in an email. "It's always possible that gender, race and other attributes of the model do not match up to the specifics of the design, given the ratio of our millions of designs to the 100 or so T-shirt styles we offer."
Now Zazzle's apologizing, and quickly trying to edit the apparel pages that come with a white model.
"We understand how these designs, when automatically prepopulated on random models, can appear to be a sign of disrespect," the spokesperson said. "We're working diligently on an interim fix that doesn't mismatch out-of-context content to models; some of the designs may be down temporarily while this is underway. At Zazzle, we're committed to diversity and are working diligently on increasing the diversity of the preposed model shots within the T-shirt range itself."
Although the number of black empowerment T-shirts seen on white models has decreased in the past few days, the images from the screenshots above all currently remain on the website.