Congress just recessed for the entire month of August. Here's 3 things to watch as they head home.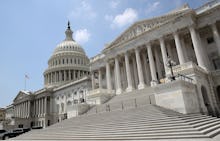 Congress officially left Washington on Thursday for their annual month-long August recess.
The Republican-controlled Congress left town without accomplishing any of President Donald Trump's major initiatives, including repealing and replacing the Affordable Care Act or reforming the tax code.
And when lawmakers return after Labor Day, they have more pressing issues to tackle — like ensuring the United States doesn't default on its debt and avoiding a government shutdown.
In all, members of Congress are going back home with very little to show for the past seven months, and they will have to answer to their constituents for that lack of progress.
Here are three things to watch while lawmakers are out of town:
Town halls
While lawmakers are home for the month, many will hold town halls to hear from their constituents.
Town halls have already been rowdy over the past several months, as people voiced their anger at Republican members of Congress for their attempts to repeal and replace the ACA, better known as Obamacare.
But now that the Republican-led effort officially failed, look for frustrated GOP voters to begin demanding answers from their Republican representatives.
Vulnerable Rep. Mike Coffman (R-Colo.) already got a taste of that at a town hall he held earlier this week in the Denver suburbs. Both liberal and conservative town hall attendees were angry with him over the GOP's repeal effort.
If Republican lawmakers can't hold together their base, the 2018 midterms could be a disaster for their party.
How do Republicans address Trump?
During these town halls, lawmakers are also likely to field questions about Trump.
So far, most Republicans have been deferential to their de facto party leader, defending Trump on issues such as not releasing his tax returns and the Russia investigation.
However that tone has seemed to shift in recent weeks.
Republicans in both chambers joined Democrats to pass a Russia sanctions bill that ties Trump's hands by not allowing him to remove those sanctions unilaterally.
And they spoke out against Trump when he attacked Congress, and not Russian President Vladimir Putin, for the state of U.S.-Russia relations.
Some GOP Senators are even working on legislation that would prevent Trump from firing special counsel Robert Mueller, whose Russia investigation is heating up.
How Republican lawmakers address questions about Trump is something to keep an eye on — especially if it's new faces feeling comfortable breaking with the president.
Retirements
The August recess marks the official start of congressional retirement season.
As the end of recess draws near, some members of Congress will realize they don't actually want to return to what Trump has coined "the swamp," and will announce that they don't plan to run for re-election in 2018.
The makeup of who announces retirements is worth watching.
If a number of Republicans who face re-election in competitive seats announce they won't seek another term, it's a sign that the GOP thinks the political environment will be perilous for their party.