'Overwatch' Orisa Buff Update: Jeff Kaplan teases "minor improvements" on the way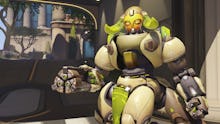 Orisa, Overwatch's only four-legged hero, isn't keeping up with her bipedal peers, but don't worry: Blizzard's on top of it. Overwatch director Jeff Kaplan admitted an Orisa buff is likely on the horizon but didn't offer any details on what the improvements would be or when players could expect them.
Orisa Buff is on the way, but it'll be "minor"
In a post on the official Overwatch forums, Kaplan said Orisa isn't exactly where the team wants her, but they're being careful to avoid swinging her too far in the other direction.
"We don't think she needs a mega buff," Kaplan said. "We are experimenting with some minor improvements though. Apologies for no details — we're trying a few things right now and not all of them are going to stick. Overall, we feel like she's not far off but not quite in the ideal spot yet."
As far as what those improvements are, it's anyone's guess. Some, like Reddit user Xop, suggested a minor increase to the speed of Orisa's projectiles, but the consensus seems to be that she doesn't need much.
I wouldn't hold my breath for that fan-suggested "gallop" ability, though.
More Overwatch news and updates
For more on Overwatch, check out the rest of what Mic has to offer. Here is an intro to the cute, new "Wholesome Overwatch" subreddit, a look at some gorgeous Overwatch-themed PS4 and Xbox One controllers, a cool Easter egg in the new Horizon Lunar Colony map and a criticism of Blizzard's failures in its design of Symmetra.