IOS 11 Beta 4: Check out all the new features on the latest iPhone OS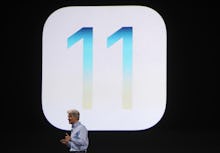 In June, Apple introduced its new operating software for iPhones and iPads — iOS 11 — at the annual Worldwide Developers Conference event in California. The software is slated to roll out in September.
"With iOS 11, we're delivering the biggest [augmented reality] platform in the world, and it's available today for developers to begin building AR experiences using ARKit for hundreds of millions of iPhone and iPad users," Craig Federighi, Apple's senior vice president of software engineering, said in a statement. "IOS 11 gives iPad users the powerful app functionality they need to take advantage of everything iPad is capable of, and brings hundreds of new features and incredible updates to the iOS apps iPhone and iPad users enjoy every day."
Before the official release of the operating system, the company had been dropping beta versions for developers. Most recently, Apple unveiled the fourth beta software for developers. 
Curious about what iOS 11 beta 4 has to offer? 9to5Mac outlined the changes that come with the newest edition of the prerelease software.
First and foremost, the Notes app has a new splash screen that will let users get acquainted with all the new features coming to the app. The Photos app also gets a new splash screen to introduce Live Photo Effects and Live Photo Editing. 
Additionally, the app store's Updates tab has a pull-to-refresh feature that makes it easier to check for app updates. Swipe gestures for lock screen notifications allow users to view, clear and open messages on the main screen. What's more, users can open apps from lock screen notifications, courtesy of the new Touch ID user interface.
Aside from these features and updates, the remainder of the changes are aesthetics. Several apps — like Notes, Contacts and Safari — have updated icons. There are also new animations. For example, the Screen Recording featuring in the Control Center has a new countdown animation and there's a new low power mode icon animation.
Apple's developer beta is part of its Developer Program, which allows app creators to update applications for iPhone, iPad and more. Developers can access the latest beta operating system releases for "development and distribution" by joining the program.