'Destiny 2' PC Restrictions: Bungie restricts use of OBS, XSplit and PC monitoring software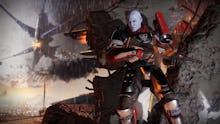 If you're fascinated by the idea of Destiny 2 finally coming to PC, there are some things you need to know about how it works. This is especially true if you plan on streaming it, or using external programs to monitor performance.
Destiny 2 won't allow OBS or XSplit in full-screen mode
If you want to capture footage of Destiny 2 on PC, Open Broadcaster Software and XSplit won't cut it. According to the game's website, the two popular streaming programs can only be used in windowed mode, not in full screen. You can use them in borderless windowed mode, for the record. Hardware options, like Elgato, are supported in full screen.
If you want to play with friends and you plan on using Discord or Mumble for voice chat, go in knowing that visual notifications won't work with Destiny 2. You'll still be able to talk to people, but the app won't work quite right. Lastly, programs like Fraps are disabled. That means you won't be able to monitor your frame rate and other statistics with your program of choice.
This is all apparently a measure to prevent code injection, which is PC jargon for "allowing bad things into programs that we'd rather not allow in." Code injection enables players to cheat in online PC games, which became a real problem in Ubisoft's The Division.
If you're not a streamer or you're not particularly concerned about your PC stats during gameplay, this won't affect you. But for those PC players who have relied on OBS or XSplit for streaming in the past, it looks like you'll need to get yourself a capture card.
More Destiny 2 news and updates
If you can't wait to get back out on patrol with your Fireteam, check out the rest of our coverage for Destiny 2. We've got coverage about why Bungie opted not to use dedicated servers for the sequel, why there won't be cross-play and cross-saves for PC and what you can expect from the game's PC specs and Battle.net partnership. Additionally, you can check out the new Supers being added to the game, some details behind guided games and the new Crucible changes as well. Finally, you can check out our ongoing coverage of the beta here.