'Splatoon 2' Splatfest Time: When does it start and how to join the mayo vs. ketchup competition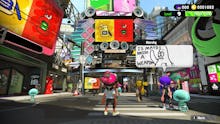 That's right, it's almost Splatoon 2 Splatfest time. Nintendo is holding yet another contest for vans to vote with their splat guns between two items of the same category. The last poll was an easy one: cake versus ice cream. This time the debate is a tale of two condiments: ketchup and mayonnaise.
So when can you take part in Splatoon 2's first non-demo Splatfest? Here's what you need to know.
What time does Splatoon 2's Splatfest start?
Splatoon 2's Splatfest starts on Aug. 4 at midnight Eastern time (that's Aug. 4 at 9 p.m. Pacific). You can choose which team you're on beforehand in Splatoon 2's town square to the bottom left of the jumbotron. If you see a ground-level screen flashing condiments in a ridiculous manner, you're at the right place.
The Splatfest will last for 24 hours.
The last time Nintendo held a Splatfest for Splatoon 2, ice cream beat cake in a decisive victory during the game's free demo. The battle of condiments, however, may not be as clear cut.
Team Mayonnaise versus Team Ketchup: Which should you choose?
While ice cream is superior in a lot of ways, it also had the fan-favorite Marina backing it. This time around, as shown in Nintendo's art, Pearl is on the side of mayonnaise while Marina is rolling with team ketchup. This could sway many people in deciding which sauce they choose, along with the tastiness factor of each. The right choice, however, is something you'll have to search deep down within you to discover.
Actually, it's ketchup. It's always ketchup.
Check out more Nintendo news and coverage
Looking for more Nintendo Switch news? Check out how blind gamers are using the Nintendo Switch and why you can't get your Mii to look quite like you. Nintendo's left Joy-Con issue turns out to be a hardware problem — here's how to solve it. Find out how to buy a console amidst the recent restock. Learn why the Switch cartridges taste so bad. Check out our comparison photos sizing up the Switch to the Wii U GamePad (part one and part two), or find out how to make use of ethernet without the dock and the best way to get alerts when new stock arrives.