There's about to be a version of Windows that you can control with your eyes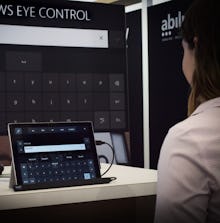 On Tuesday, Microsoft announced it is testing a new feature for Windows 10 that offers native eye tracking support: it will let people control parts of the operating system with their eyes. The goal of built-in eye tracking is to help people suffering from neuromuscular diseases and disabilities navigate Windows 10 without a mouse or keyboard. 
"Eye Control makes Windows 10 more accessible by empowering people with disabilities to operate an onscreen mouse, keyboard, and text-to-speech experience using only their eyes," Microsoft said in a blog post on Wednesday.
To use the feature, currently in the beta testing stage and available for select users signed up for Microsoft's Windows Insider program, people need to utilize eye tracking hardware by Tobii, a Swedish company. Upon activating Eye Control, a launchpad pops up on the screen. Users can use their eyes as a mouse or in lieu of the keyboard.
One feature is called "shape writing." It lets users expedite the typing process by looking at the first letter and last letter of a word and then looking at letters in between. A predicted word will appear and if it's wrong, you can swap it out with another alternative.
"With eye tracking, devices can better understand our intentions, a key ability in creating truly natural human-computer interaction," Oscar Werner, president of Tobii Tech, said in a statement. "Eye tracking support in Windows 10 has the potential to form a new paradigm that fundamentally transforms how we interact with our devices."
The technology, which came out of a 2014 hackathon event, currently only supports the US English language keyboard.