Here's what to know about the fraud investigation into Israeli PM Benjamin Netanyahu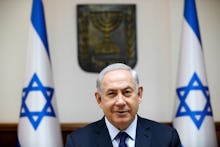 Israeli Prime Minister Benjamin Netanyahu is facing legal trouble.
Israeli police confirmed on Thursday that Netanyahu is officially suspected of bribery, fraud and breach of trust in two cases, Haaretz reported.
Though the investigations into Netanyahu have been reported for months — with police questioning the prime minister as far back as January — Thursday's announcement marked the first time the prime minister has been publicly designated as a suspect, the Guardian noted.
"We completely reject the unfounded claims made against the prime minister. The campaign to change the government is underway, but it is destined to fail, for a simple reason: there won't be anything because there was nothing," Netanyahu's office said in a statement Thursday, as quoted by Haaretz.
Cases 1000 and 2000
The two cases at the center of Netanyahu's alleged crimes are known as Cases 1000 and 2000, according to Haaretz.
Case 1000 concerns allegations that Netanyahu accepted gifts of champagne, cigars and jewelry from several tycoons, particularly film producer Arnon Milchan and Australian businessman James Packer. The "systematic" gift-giving was allegedly part of a mutual agreement, in which Netanyahu acted on Milchan's behalf in the Israeli telecommunications sphere in exchange for the elaborate gifts.
The second case, Case 2000, concerns negotiations between Netanyahu and Arnon Mozes, the publisher of Israeli daily newspaper Yedioth Ahronoth. In exchange for Mozes skewing the publication's coverage in favor of Netanyahu, the prime minister would allegedly help bolster Yedioth's status by restricting free newspaper Israel Hayom — owned by Las Vegas Sands CEO Sheldon Adelson — either through legislative action or by persuading Adelson to restrict the paper's distribution.
Recordings of the conversation between Netanyahu and Mozes have been uncovered by police, Haaretz reported, though Netanyahu claimed he was "pulling the wool over [Mozes'] eyes" and did not intend to actually strike a deal with him.
Those claims have been challenged, however, by a July testimony from Adelson stating Netanyahu discussed an economic matter with him that the prime minister had previously discussed with Mozes. This could demonstrate that the prime minister was serious about moving the deal forward, Haaretz noted.
Netanyahu has faced corruption scandals before. Haaretz noted that as of July, Netanyahu was also embroiled in two other cases: Case 3000, which concerned the purchase of German submarines and was a potential conflict of interest for Netanyahu, as his confidant David Shimron represented the Germans' agent in Israel; and Case 4000, which involved Netanyahu failing to disclose his friendship with the controlling shareholder of a telecommunications company that Netanyahu dealt with as prime minister.
The four-time Israeli prime minister has also faced criminal allegations in the past, according to Bloomberg. During his first term, Netanyahu was questioned regarding an attorney general appointment that was speculated to be a political trade-off for West Bank concessions. No charges were brought against Netanyahu in that case.
Netanyahu's former chief of staff will be a state witness
The news that Netanyahu is officially suspected of the alleged crimes came with the revelation that the prime minister's former chief of staff, Ari Harow, will testify against Netanyahu on behalf of the state, Reuters reported.
Harow's testimony, which a former aide told Reuters could be a "bombshell" against Netanyahu, is part of a plea bargain for a separate corruption case. The former chief of staff confessed to fraud and breach of trust, and will receive a sentence of six months imprisonment, community service and a $194,000 fine.
Harow served as Netanyahu's chief of staff twice, once for two years beginning in 2008 and again in 2014, the Guardian noted. The aide resigned in 2015, however, amidst corruption allegations suggesting he was using his government position to advance his private interests.
The prime minister isn't the only Netanyahu under investigation
Netanyahu's criminal allegations coincide with a separate investigation currently underway regarding the prime minister's wife, Sara Netanyahu.
The Israeli first lady is involved in two separate cases alleging the misuse of public funds, the Times of Israel reported in July. Netanyahu allegedly used public funds to pay for personal food, as well as a caretaker for her late father, though the prime minister's wife has denied any wrongdoing.
"It will be an ... embarrassment if in fact it will be recommended to indict the prime minister's wife because of a few cups of tea that a caretaker gave to Mrs. Netanyahu's late father, Shmuel Ben Artzi — may his memory be blessed — on his deathbed," a spokesperson for the prime minister said, as quoted by the Times of Israel.
The Israeli first lady was reportedly questioned by police on Wednesday about the allegations, Ynet reported, after previously being questioned in December. Israel police recommended in May that she be prosecuted for aggravated fraud for the misuse of funds, the Times of Israel noted.
What happens next?
The allegations against Netanyahu are already taking a toll, with senior officials in the prime minister's Likud party reportedly sparring publicly as the opposition calls for Netanyahu to resign.
Whether or not Netanyahu will resign remains to be seen, although the prime minister may not be legally required to do so — even if he's indicted.
Israeli Justice Minister Ayelet Shaked said Wednesday that the prime minister will not be forced to resign if he's indicted unless the charges are "extremely far reaching," Haaretz reported. According to Israel's Basic Law of Government, the prime minister will only be required to step down if "convicted of a crime that carries moral turpitude."
"The law states the prime minister doesn't have to resign. We'll wait and see," Shaked said in an interview with Israeli media outlet Ynet, adding, "Something very extreme would need to happen for the government to fall."