These black creators have gone viral — so why don't people know their names?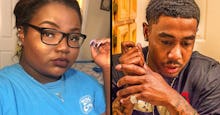 If you've been active on the internet in the past three years, you inevitably saw viral videos created by black people. For many of us, the content and catchphrases of those viral videos have entered our own vocabularies.
Whether it's the "eyebrows on fleek" vine that gave a generation a new synonym for "on point" or the "What are those?" video that blasted everyone with questionable footwear, black creators are sharing original content online that gets co-opted by the masses.
Of course, this trend is nothing new. A 2015 article in the FADER pointed out that while major brands use viral internet creations — particularly those made by black folks — for advertising campaigns, the original creators rarely see the profits. Teen Vogue published an op-ed Wednesday criticizing "digital blackface" with the use of reaction GIFs featuring black faces, a common way to respond to jokes and situations online.
There's a lot to be critiqued in the ways people use black folks' creations online. It's crucial to note, however, that people of color aren't even getting the same personal recognition as white people who go viral. While many know the original "eyebrows on fleek" and "What are those?" videos, few know those internet stars' names.
The same isn't true for the white centerpieces of other viral internet trends, like Alex from Target and Damn, Daniel. Many even know the name of Danielle Bregoli, the 14-year-old girl behind the viral Cash Me Ousside video. This name recognition translates to large online followings, something most black viral stars never get.
Peaches Monroee, the internet name of the woman who created the "eyebrows on fleek" video, has about 3,700 followers on Instagram. Young Busco, the internet name of the man behind the "What are those?" vine, has just over 21,000 followers on his Instagram.
Compare these to the Instagram followings of Daniel Lara (Damn, Daniel), Alex Lee (Alex from Target) and Bregoli: 680,000 followers, 1.6 million and 11 million, respectively. The numbers aren't even close.
Since black viral creators aren't getting followings nearly as large as their white counterparts, it's no surprise they aren't compensated or awarded sponsorships in the same way. The first step to fixing the compensation disparity is figuring out why black creators aren't getting name recognition and mass followings in the first place.
An absence of mainstream media appearances
"The tipping point for mass exposure of these trends does not begin when the trend itself begins," Brad Kim, editor-in-chief of Know Your Meme, said in a video interview. "It happens when it gets exposed to mainstream, white, suburban America."
When black creators go viral, their creations may become mainstream, but they're rarely seen on American morning shows and daily talk shows. White creators, though, regularly go around the talk-show circuit.
A video of Alex from Target on Ellen has over 10 million views. Damn, Daniel's appearance on the show was viewed more than 36 million times. Peaches Monroee never appeared on Ellen, but her phrase did multiple times, including when host Ellen DeGeneres explained the meaning of "on fleek" to her audience.
As the FADER reported, "on fleek" appeared across the entertainment media landscape thanks to celebrities like Ariana Grande and Andy Cohen. The phrase was used by large corporations like IHOP, Denny's and Hefty, the trash bag and tableware company. This allowed "on fleek" to reach a mainstream audience without recognizing Monroee herself.
Bregoli coined her catchphrase, "Cash me ousside," during a 2016 appearance on Dr. Phil. After the original video went viral, she appeared on the show a second time in February. While Bregoli was likely too controversial to invite on most mainstream talk shows, Leslie Jones talked about her with Dr. Phil while on the Tonight Show.
TMZ and other celebrity tabloids have closely followed Bregoli, helping to build her brand. Bregoli may have even signed a deal for a reality television show, TMZ reported in March.
Without the mainstream visibility offered by talk shows, black creators with viral content face more challenges when building their own brands and followings. Television shows use the creations of black folks without returning the favor to the original creators.
A lower bar for white creators to go viral
While there's no formula for making it big online, certain factors always help. Humor is the most prevalent, as social media users are likely to share videos they find funny. In the weird world of social media, though, going viral sometimes doesn't take much effort at all.
"With certain YouTubers, you watch their content, and it's like, 'What is the draw here?'" Kim said. "And usually when you can't find it, without sounding lookist or anything, it's just that attractiveness also works as a viral factor."
With the superficial impact Instagram and other visually driven social media have on internet youth, people can build large followings based on appearances alone. Sometimes, especially for young, white men, this can even lead to a viral trend.
"Both [Alex from Target and Damn, Daniel] were largely driven, just at face value, by their physical appeal," Kim said. "That definitely struck a chord with the millions of teenagers [who] were linked into Vine and Twitter."
Not only did the physical appeal of both young men allow them to go viral, but it helped them build and keep hundreds of thousands of online followers. This supposed lack of talent or content needed to get mass attention has been called "white mediocrity," and it's been widely criticized.
In April, Affinity Magazine published an op-ed titled, "Dear Ellen, Stop Promoting White People Who Do Literally Nothing." It highlights the case of Carter Wilkerson, the young man who got more than 3 million retweets in his quest to win a year of free Wendy's chicken nuggets. Wilkerson took DeGeneres' title of having the most-retweeted tweet ever and appeared on her show after she mentioned his tweet in a previous episode.
As the Affinity op-ed noted, DeGeneres regularly invites young, white internet stars on her show and gives them free prizes. Wilkerson got a flat screen television and Ellen apparel. Damn, Daniel received a lifetime supply of Vans shoes. Alex from Target got an iPad. That's a lot of attention given for wanting chicken nuggets, wearing white Vans shoes and being a Target cashier.
Folks like Monroee and Busco, meanwhile, have the odds stacked against them when going viral. Instead of relying on a predictable talk-show circuit and seeing the followers add up from there, they have to become entrepreneurs and do it themselves. Monroee told the FADER she's trying to launch a line of cosmetics, and according to his Instagram, Busco is working on opening a food truck. Monroee declined to comment for this story; Busco did not respond to a request to comment.
Despite the lack of name recognition, however, the future may be brighter for black internet creators. It wasn't too long ago black folks were simply the subjects of viral jokes online, not the creators, according to Kim.
"As far as representation, exposure and benefitting from their fame goes, there has been a trend of progression," Kim said. "Things are getting better. But it's definitely been slow on the uptake."