Muslim beauty queen in the UK makes history after choosing to wear a kaftan instead of a bikini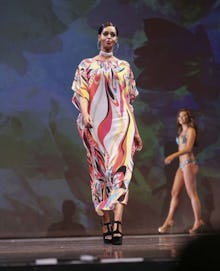 Even before participating in the Miss Universe Great Britain pageant this July, Muna Jama, a Muslim woman and the founder of a start-up to address child abuse and issues that force migration, knew that she didn't want to wear a bikini for the pageant's infamous swimsuit round.
"I didn't enter the competition with expectations of inspiring anybody or representing a religion, a race, a country," Jama said in an interview with Mic. "I went in representing myself and staying true to myself. I didn't do anything outside my normal life."
And normal to her, of course, was not wearing a bikini.
While the competition, which is a qualifier for the Miss Universe pageant, hadn't previously allowed this kind of substitution, the organizers ended up giving Jama the OK. So Jama decided instead to wear something far more covered, and more align with her taste and preferences: a kaftan.
"The kaftan is so beautiful," Jama said. "It can be worn at the beach, it could be worn in public, it could be worn anywhere to be honest ... It's an alternative without having to feel out of place or exposed. It is my body and my choice and I believe people should do what they feel is right for them. I wore a kaftan because it was my choice, just as much as the beautiful women that shared the stage with me wore a bikini because it was their choice."
When Jama took to the stage during the bikini portion of the competition, decked in a multi-colored kaftan, platform heels, a bedazzled choker and hoop earrings, she made history by being the first competitor to ever wear a kaftan during the swimsuit round.
In choosing to wear a more modest outfit as a swimsuit on stage, Jama joins women like model Halima Aden, who made the history-making decision in 2016 to wear a hijab and a burkini during the Miss Minnesota USA pageant.
"It takes bravery, emotional resilience and most importantly surrounding yourself with strong minded people who are prepared to make great sacrifices to welcome permanent and positive change," Jama wrote on her Instagram. "This moment has proved that I am capable of almost anything I set my mind to and limitations is a status waiting to be changed. I thank everyone who stood beside me and believed in my vision."
After the competition, which she did not win, Jama continued to feel the love on Instagram. As one person wrote: "You have inspired many who probably thought they couldn't." Another wrote, "Thank you for standing up for what you believe."
"I think people in general can take from this that you can achieve anything in life without changing," Jama concluded. "And just because it hasn't been done before doesn't mean you can't do it. Once upon a time women weren't allowed to vote. ... Organizations are entitled to say no but behind these organizations are people and I'm confident that these people are understanding beings. It is up to us to make them understand who we are. I hope that if someone has been refused in the past, this doesn't stop them from trying and continue to be themselves."
August 7, 9:51 a.m.: This post has been updated with quotes from Jama.