'Pokémon Go' Fest Safari Zones: Niantic teases Australian regional events and Unown coming to Europe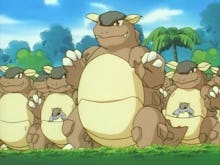 In the wake of Pokémon Go Fest going bust, Pokémon Go developer Niantic made an unsurprising but disappointing announcement: Two of the three planned Safari Zone weekends in Europe were being rescheduled. By way of an apology, the developer promised that special Pokémon would be appearing across Europe.
We've finally got some more information about what these "special Pokémon" are, and when they're appearing. Read on for more info.
Pokémon Go Safari Zones: Serebii, Pokémon Go Twitter accounts announce Kangaskhan and Unown coming to Europe
Both the Serebii Twitter account and the official Pokémon Go account have recently tweeted about the new Pokémon that will be appearing across Europe during the weekends of Aug. 12 and Aug. 19. The Pokémon Go website has more information about which Pokémon are spawning:
We've heard that as early as this weekend, some Pokémon rarely seen in Europe, including Kangaskhan and Unown, may begin appearing in certain European cities. This unusual occurrence is predicted to last until Aug. 21.
Although official events for Unibail-Rodamco shopping centers have been pushed back, the post still encourages players to "consider stopping by your local Unibail-Rodamco shopping center" as it will "[be] a great place to find these Pokémon." It is also noted that "Lure Modules will be activated at many PokéStops found at these locations throughout the weekends of Aug. 12 and Aug. 19."
The reveal of a regional and the very rare Unown is pretty familiar to anyone who attended the Pokémon Go Fest back in July, as South America's Heracross and Unown were available in Chicago. It seems like new regional and increased Unown spawns might be the future for Pokémon Go live events, but it's still a little early to say conclusively.
Pokémon Go Safari Zones: list of every city affected by the new spawns
At the bottom of the Pokémon Go news release, Niantic released a list of cities that can expect a visit from Kangaskhan over the next few weeks. In the order provided, they are as follows:
Vienna, Austria
It seems like Niantic is casting a pretty wide net to compensate for the loss of the Safari Zone events. If you're living or traveling in Europe, hopefully one of these cities is where you call home, or is at least within traveling distance.
More Pokémon Go news, updates, tips and tricks
Raids are here — and not just for ordinary Pokémon. Check out our coverage of the legendaries now in-game, Lugia and Articuno. Find out what went wrong at the Pokémon Go Fest in Chicago while you wait for the debut of the European Safari Zones in August and September. Finally, check out some reporting on the issues plaguing rural players a year after launch, how the game created a space for black female gamers and how Pokémon Go can continue to build its community.
Aug. 4, 2017, 4:12 p.m.: This story has been updated to include Almere, the Netherlands, in the list of cities with Pokémon Go Safari Zones.