'Mr. Robot' drops a chilling season 3 trailer after some bonkers decoding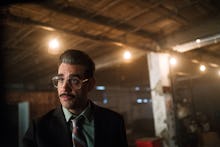 After a painstakingly complicated decoding process, USA Network has just released the first trailer of Mr. Robot's third season — a clip that was uncovered thanks to the impressive detective work of the show's most passionate fans on Reddit.
The scavenger hunt actually started in earnest earlier on Friday, when USA released a photo of "Irving," a new character who will be played by Bobby Cannavale and who's described as a "laconic, no-nonsense used car salesman." As some redditors noticed, there was some readable Morse code on his tie, which led to a cryptic promotional site for "Red Wheelbarrow BBQ" that delivered the following message:
Mr. Robot's Twitter account then began tweeting lines from Leonard Cohen's 1992 song "Democracy," using an odd mix of capital letters and numbers (an example: "1?m junk but I'm 5ti11 holding up"). I assumed the bizarre characters would be key to debunking some type of code, and even went to the OnLine Encyclopedia of Integer Sequences — used in season two's 11th episode by Mr. Robot to decode a message from another character — thinking there'd be some connection there. (There wasn't, I had no idea what I was doing.) Unfortunately, it was all uncomfortably reminiscent of Charlie's search for Pepe Silvia in It's Always Sunny in Philadelphia.
Anyways, for those who spent the better part of an hour following along with the tweets, the ominous teaser trailer for season three does make use of Cohen's lyrics, with a creepy voiceover reciting some lyrics. The teaser does what a good trailer should: It sets the eerie tone, without giving much away regarding the plot. All we can really say is that Elliot looks to have recovered from the gunshot wound he suffered in the season two finale, and that the attack perpetrated on E-Corp's paper records is probably leading to a devastating fallout. A new "democracy," if you will.
The third season of Mr. Robot will premiere Oct. 11 at 10 p.m. Eastern on USA Network.
Watch the trailer below:
Mic has ongoing TV coverage. Follow our main TV hub here.