7 economic justice groups working to close the wealth gap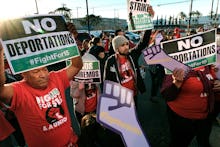 With the stock market reaching record highs and economic growth on a steady (if slow) roll in 2017, it might seem like most Americans are finally getting back on their feet when it comes to their finances. But while the effects of the Great Recession are waning, we still have a long way to go when it comes to achieving economic equality within our communities.
Much of the recovery's benefits went to the people who needed it the least: The income gap between the top and bottom 20% of Americans grew from $29,200 in 2010 to $189,600 in 2015, according to an analysis of census data. Even the middle class is getting pinched, with wages rising just 2.5% from June 2016 to June 2017 despite a strong job market and low unemployment rate. Rising college debt and the fact that women still earn just 82% of men's salaries hasn't helped, either.
To address these yawning economic divides, many organizations are working to combat the challenges faced by low- and middle-income Americans. Some focus on achieving specific economic and policy outcomes, from a higher minimum wage to lower wage gaps between people of different genders and races. Others are experimenting with moon-shot ideas like the universal basic income to see how it changes people's spending and earnings abilities. The rest are are simply raising cash and giving it to those who need it.
Whether you are looking for an organization to support, or are interested in launching a grassroots effort yourself, below you'll find seven groups at the forefront of fighting economic inequality:
1. Strike Debt
An activist group dedicated to changing how Americans think about their follow citizens' debt burdens
Founded in 2012, Strike Debt grew out of the Occupy Wall Street movement with the goal of chipping away at Americans' crippling debt. As of 2106, the average credit card debt per household was $16,425, totaling $764 billion for all Americans. Though credit card use may be on the decline, when you factor in car loans and mortgages, consumer debt is still alarmingly on the rise.
Strike Debt's best-known project, the nonprofit Rolling Jubilee, buys debt sold on the open market for pennies on the dollar to extinguish debtors' obligations. "Think of it as a bailout of the 99% by the 99%," the website reads. To date, the group reports having raised more than $701,000 and extinguishing nearly $32 million in debt.
"No one should have to go into debt or bankruptcy because they get sick," Laura Hanna, a Rolling Jubilee organizer told the Guardian in 2013
Strike Debt most recently formed The Debt Collective, a "debtors union" that advocates disputing student loans used to pay for education at certain for-profit colleges. The group started with students at the now-defunct Corinthian Colleges, which was ordered in 2016 to pay students $820 million in restitution for misleading and illegal practices.
2. A Continuous Charity
A nonprofit dedicated to supporting Muslim American students and integrating them into society
Founded in 2013, ACC provides interest-free loans and scholarships to finance higher education for Muslim American students, many of whom Their goal is to "nurture a generation of Muslim professionals who will be well-versed in both the traditional Islamic and Western sciences, using them for the benefit of mankind."
To date, the group has lent students more than $681,000, saving students about $226,000 in interest payments. But its long-term goal is to garner greater acceptance for Muslims in U.S. society by increasing Muslims' presence at colleges and universities. "By having Muslims who are educated woven into the fabric of this society, we will be able to impact society at various levels," its website reads.
The group is advised by Imam Yaser Birjas, who gained media attention as the religious leader of a Muslim community in Irving, Texas, the same city where Ahmed Mohamed, the high-school student who was arrested for bringing a homemade clock to school.
3. DonorsChoose
A nonprofit dedicated to supplying materials to public school teachers and students
The underfunding of public schools hits low-income kids the hardest, since they are much more likely to attend them. To help give these students more of the same resources found in private schools, DonorsChoose lets teachers post the type of supplies they need for their classrooms — like clothing, food, computers, books, etc. — then solicits donations for them. Think of it as a kind of GoFundMe for school supplies, complete with progress reports on the funding goals for each project.
The organization has raised more than $562 million since it was founded in 2011, helping more than 23 million students, according to its website. Boasting Stephen Colbert and LinkedIn CEO Jeff Weiner among its board members, the group is unique in that it lets donors choose both the specific school as well as the specific project they wish to support.
For example, one third-grade classroom in Philadelphia recently raised $482 to pay for a carpet for kids to sit on during class. A Miami Beach teacher asking for $378 to buy toiletry supplies for her students wrote, "Many of our parents are newly arrived in the U.S. and earn lower-than-average incomes." She adds, "It would be great to be able to offer our kids toothpaste and toothbrushes as well. Additionally, shampoo would be useful."
Charity Navigator, an evaluator of nonprofits, gives this registered 501(c)(3) a 4-star rating, its highest mark.
4. Cooperation Jackson
A nonprofit collective aimed at local empowerment in Jackson, Mississippi
"Ain't nobody creating no jobs for us," Cooperation Jackson cofounder and director Kali Akuno told the Atlanta Black Star. The group seeks to address economic inequality in Jackson, Mississippi, which Akuno says has a "real" unemployment rate of over 50%. (The city's official unemployment rate was 5.3% in June, nearly a full percentage point above the national average of 4.4%.)
Founded in 2013, the registered 501(c)(3) is forming a series of collectives that focus on traditional industries. It currently operates Freedom Farms, an urban-farming collective, as well as a community center and small-business incubator called the Chokwe Lumumba Center for Economic Democracy and Development.
It's also creating a community land trust that is purchasing vacant lots and abandoned homes in order to develop a housing cooperative with "stable rents to help sustain and build vibrant working class communities in Jackson," according to its site. To date, the group has bought up 25 vacant lots, the Nation reported.
"The idea is essentially this: Since Jackson's current economy isn't working for its residents, and its current political system isn't doing much to help, why not create a new economic and political system right alongside the old one?" reporter Peter Moskowitz wrote in the Nation earlier this year.
5. Fight for $15
A group dedicated to promoting a $15 minimum wage across America
The Fight for $15 is a union-led movement to increase the minimum wage. So far, it appears to be working. Since launching in 2012, when hundreds of fast-food workers in New York City walked off the job to protest low wages, at least 21 states, plus Washington D.C., have changed their minimum-wage laws, according to the Economic Policy Institute — and the minimum wage has increased in at least 27 states and D.C.
The group remains quite active, working on fights in Illinois to create a statewide $15 minimum wage, for instance, and in St. Louis to reject a rollback of a minimum wage initiative.
6. National Committee for Pay Equity
A group that advocates for pay equity for women and people of color
Founded in 19719, the NCPE is a coalition of women's and civil rights organizations aimed at closing the wage gap, both between men and women as well as between people of different races. Although the wage gap shrank from 59 cents on the dollar in 1963 — the year the Equal Pay Act was signed — to 77 cents on the dollar in 2012, the disparity still costs women an estimated $700,000 to $2 million a year, the group estimates.
To raise awareness about this persistent divide, the group promotes "Equal Pay Day," which marks how long into a year the average woman would have to work to earn what a male colleague made in the prior year. (It fell on April 4th in 2017.) The group also started the Wage Project, a 501(c)(3) charitable organization that holds salary negotiation workshops and provides salary coaches to help women earn higher wages.
7. GiveDirectly
A nonprofit platform for providing cash to needy populations worldwide
Of course, economic inequality isn't just an American problem. One organization working to combat wealth imbalances on a global scale is GiveDirectly. The idea is simple: Give cash to people living in extreme poverty, where every U.S. dollar of spending goes much further than it does in most countries.
The group commissioned a study published in 2016 that evaluated a trial in which it gave 503 low-income households in western Kenya cash payments to spend as they chose. The results: Each $1,000 transferred to residents resulted in a $270 increase in earnings, a $430 increase in assets, a $330 increase in nutrition spend, and a 0% increase in money spent on alcohol or tobacco. Perhaps most importantly, the study found, "Transfer recipients experience large increases in psychological wellbeing."
Now the 501(c)(3), which is backed by Google.org and GiveWell, is raising $30 million to launch a universal basic income study, in which it will provide more than 26,000 people in rural Kenya with cash transfers for up to 12 years. The goal is to "test the impact of different models of basic income over 12 years." It's raised $25 million to date and plans to launch the initiative this fall.
Sign up for the Payoff — your weekly crash course on how to live your best financial life.
Correction: Aug. 18, 2017