5 witches share what they'll do during Monday's total solar eclipse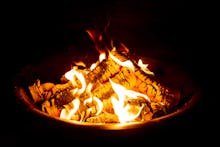 Monday's total solar eclipse holds great significance for many. For most, it's the first time we'll ever experience such an astronomical event; the last eclipse of such scale with visibility in the U.S. happened in June 1918 and the following phenomenon in North America won't come until April 2024.
For one group in particular — witches — the rare celestial happening serves as an important moment for ritual, spiritual practice and magic. "There's no specific actual ritual for the solar eclipse — it's just a good time to do some magic," Jessica Cinquanta, a self-identifying witch, said in an interview. "The solar eclipse could bring about swift change, so people would do magic on something they want a quick result in. It stands for new beginnings, whether that's ending a part of your life and starting a new one or something else," she said. "It's really about change."
Mic spoke to five witches across the country to learn of their plans for the big day. While all five will be active in their kind of witchcraft, every one of them is using the powers they sense in the sky above to impart some good on the world below. You can read about their intentions below.
To bless a wand
"I've been working on a wand recently," 25-year-old Leonidas Schultz, a student at the Culinary Institute of America, said in an interview. "I'm using the occasion to do some empowering and blessing of it." On Monday, Schultz is hosting a revelry — a pagan party, as he defined it — at his home. The sacred celebration will have food, drinks, dancing and fun. "There's this inherent energy when people are together having a good time celebrating something," Schultz said. "It can be used in spell work or just as a way of bringing good luck to the community."
Schultz has been carving his wand for almost a year; it's the first one he's made by hand, which has extra meaning because "there's a deep belief in paganism that things you make with your own hands have more value," he said. This wand's material comes from the wood of a holly tree that was struck by lightning, which he said is "a great symbol" because "a lightning strike is a symbol of where the Earth and the heavens meet." For Schultz, "lightning is in some way the blessing or the curse of god wherever it strikes."
With time, patience and skill, Schultz has been able to whittle the holly wood down to a measurement that's equivalent to the length of his elbow to the tip of his middle finger. Making a sacred tool involves several steps, including the gathering of materials, forming of the object, cleansing, consecration and the empowering, he said.
For Schultz, an eclipse is a symbol of the union between the divine masculine (the sun) and the divine feminine (the moon). "This all coming together during the day is a grand occurrence, rare and very powerful, Schultz said. "Being able to take advantage of that moment to present my wand to the gods seems very auspicious."
To harbor energy for stress relief
Cinquanta will ring in her 36th birthday — which happens to be on the same day as the eclipse — with a hike at Anthony's Nose trail in upstate New York. The information technician, who's from Putnam County, New York, organized the event and spread the word in multiple witch-related groups through MeetUp.com. "It's just a sight to be seen," Cinquanta said in an interview. "You don't want to miss it." Anyone — spell-believing or otherwise — can join her and her friends for a three-mile hike to a vantage point with "a great view over the Hudson where you can get an unobscured view of the eclipse," she said. So far Cinquanta has approximately 20 people coming. She's providing everyone who joins with NASA-approved eclipse glasses so that all can enjoy the event safely.
As for her spiritual association with the day, Cinquanta is planning a kind of personal meditation. "When I go on the hike, it's not going to look like anything, but I'm going to draw in on the energy [from the solar eclipse]. But later that night I'll probably use that energy to do a spell to elicit a change," she said. Cinquanta said she's working on changing her mindset: "The way I think about things — I want to let things roll off my back rather than hold onto them." She said that, if anything, she's using the events of the day and her magic to improve on her stress management.
This magic, which Cinquanta says for her is a form of meditation, is something she relies on to slow her mind down. Later on, I can't keep [this energy] — it's not mine to keep — and I'll push my wishes out into the universe." Cinquanta said her wishes will have an extra boost from the eclipse energy.
To set an intention for America's future
Misti Kate*, a 36-year-old who works in the medical devices industry in Austin, Texas, says her witchcraft is devoid of religion (she does not identify as pagan). She's still undecided on whether she'll take Monday off or extend her lunch break during the eclipse, but she does have clear-cut plans for the duration of the event. "Eclipses have always been seen as time when the world stops," she said over the phone. "It's a powerful time to think about rebirth or changing or transformation. Its also a time for binding — it's a great opportunity to bind things that no longer work for you and release them."
"I'm going to be using a binding spell on that guy who calls himself our president," Misti Kate said. She plans to print out a picture of Donald Trump appearing angry, "his truest form," she described, as well as a collection of his cruelest tweets. She'll then bind these papers together with a black or red cord, douse the whole thing in water and then burn it. With this ritual, Misti Kate said she's "hoping to transform the man and the office moving forward." She'll likely keep the ashes of these Trump remnants in a little pouch that she'll carry with her.
For Misti Kate, witchcraft is a way of taking action and accomplishing goals, particularly in moments where she feels otherwise helpless. "If I set an intention and I follow through with that spell I've made a physical representation of a mental intention that I have," she said. "And that's very powerful for me because it strengthens my resolve when someone says something like, 'Both sides are bad.' Deciding not to stand up to people is a privilege, as I have as a white American woman. For me, my witchcraft [is] a way for me to find courage."
Misti Kate says that she's been practicing spiritual rituals to help combat her depression. She explained that while she knows her eclipse plan won't instantaneously change who occupies the white house, the act is a reminder of her strength. "Obviously its not going to fix my depression over night — or at all, really, but a concrete gesture that makes me feel more powerful and makes me feel like I have a control over a situation."
To pray and to exhale
"I've been laughing all week about how this has been a crazy week for a lot of reasons — politically and in my personal life — and I keep saying, 'Man, that eclipse is gonna feel good,'" Tini Howard, a 31-year-old comic book writer in North Carolina said in an interview. "It's going to be a good time to exhale. It's going to feel like a time to take a lot of these feelings and intentions I'm having and put them out into the world," she said.
On Aug. 21, Howard plans to tell both the sun about the things she loves and cares about: More specifically, she'll be praying for her loved ones. Her close friend recently gave birth to a baby, and she'll spend Monday putting her intentions toward this friend and her new child "to have a great life."
"Theres a lot of people in the world I'm seeking justice for," Howard said, hinting at those who may have suffered from decisions made by the current political administration. "A lot of what witches ask for is the same thing everyone asks for when they pray: love and happiness and protection for ourselves and our loved ones." She'll also likely write down some angry thoughts and burn them — "I definitely love burning things," she said.
To make a pilgrimage, both personal and professional
Shell Selvans, 37, will be road-tripping from her home in California's Bay Area to Oregon. She's organizing the pilgrimage with other members from the CAYA Coven, San Francisco East Bay's eclectic pagan interfaith coven at which she is a priestess. The plan is to go to a park along the river and watch the eclipse while it's happening — nothing too complicated, as Selvans said she'll be considering the physical journey as a spiritual pilgrimage from the moment she gets in the car until she arrives back home.
Besides being an ordained priestess at the coven, Selvans is a planetary scientist. "I've mostly studied Earth and other planets in our solar system," she said over the phone. "I think being a scientist is a natural product of being a curious human," Selvans said, explaining that she does not believe her profession and her faith are contradictory. "There's this sense of awe and wonder that comes with being a scientist. People often associate awe or wonder with uniquely spiritual activities or gods, but [what I do for my job] produces a sense of awe, too."
Selvans said the eclipse is a particularly exciting event for someone in her field, and is thrilled to see the widespread anticipation around the event. "It's really sort of an interesting experience — a five-day road trip for a two-minute event. It's amazing that something so brief has so much draw for people — I think it's such a magical ... or miraculous ... or ethereal kind of event."
*Last name has been withheld to let source speak freely on sensitive topics.