The best times to book air travel for the winter holidays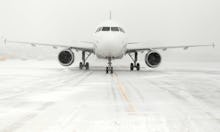 Going home for the holidays can be hectic — especially if a flight is involved. Ticket fees often surge for flights around Thanksgiving and Christmas, and the actual airport can feel straight out of a scene from Home Alone. While some overeager travelers may have booked Thanksgiving plans way before Memorial Day, other procrastinators may be biting their nails as fares appear to rise every minute we get closer to seeing turkeys in every grocery store.
To prevent you from booking flights too soon or too late, we asked Kayak for exclusive data on the best times to book your holiday travel, based on fare trends in economy class from the last holiday season.
Book before Nov. 11
According to Kayak's internal data, median airfare for domestic holiday travel ranging from Nov. 18 to Jan. 3 starts to increase after Nov. 11. So if you're eyeing fares throughout the fall, make a move before this day.
If you're flying from the Southwest...
Travelers departing from Southwestern states for the holidays should be patient. Historically, Kayak has seen median airfare start to decrease after Aug. 16, so keep an eye on that good flight deal, but know that prices will likely go down.
If you're flying from the Southeast or Northeast...
Being super enthused in the east probably doesn't pay off: Kayak recommends waiting until after July 31 to book your holiday travel. So don't wait any longer if you spot a good deal but don't feel bad about procrastinating — but do start watching fares.
If you're flying from the West...
If you're flying from the western United States, avoiding booking holiday travel in June and July was a smart move: This is typically when median airfare for the holidays is at its highest. For the best savings, wait until after Sept. 4 to start booking your holiday travel.
If you're traveling to Europe...
If you want to skip American Thanksgiving or spend Christmas and New Year's abroad, you still have time to plan your international travels. Book your airfare in mid-October for the best deals. If you're flying to Europe over the holidays, Kayak recommends booking about six to eight weeks ahead of time for the lowest ticket prices.
Last season, Kayak data shows airfare to Europe steadily declining from late summer through the end of September until mid-October for holiday travel between Nov. 18, 2016, through Jan. 3, 2016.
Keep an eye on Oct. 10
Kayak's archival data approximates Oct. 10 as the day with the best prices to travel to Europe for the holiday season, so if you're still ticket-free on this date, this is when you're likely to have the biggest savings.